January 29, 2014 - 6:47pm
Popular Color Me Rad 5K returning to Darien Lake on June 21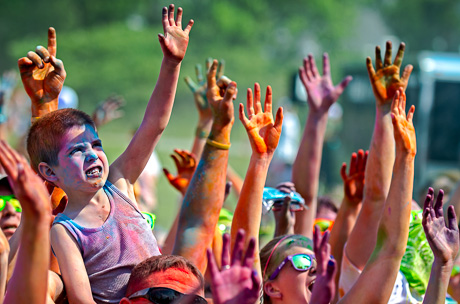 Press release:
Back by popular demand, the Color Me Rad 5K, a nationally recognized human tie-dye spectacle and run/walk, is returning to Darien Lake for its second year bigger and better than before. More than 6,800 racers came out for the event last year, raising $15,000 for the Special Olympics of New York. This year, registration will be open to 10,000 participants so even more color-plastered racers can get in on the fun while supporting a great cause.
What makes Color Me Rad so unique is the excitement and entertainment generated by thousands of racers running through the scenic grounds at Darien Lake while a Color Bomb Squad takes aim their shirts, faces, and hair with a rainbow array of colors. A new element to the fun this year, racers will get hand-held color blasters so everyone can get in on the action.   
The event is June 21.
Registration for the run/walk is now open at http://www.colormerad.com/race/buffalo.  
"We strive to partner with organizations and families to create special moments that their kids will share with their kids. There's no doubt that this is going to be a colorful memory worth sharing," said Rod Rankin, vice president and general manager of Darien Lake. 
Participants are encouraged to continue their fun after the race with a day at Darien Lake. Accommodations packages are available for registered participants at www.godarienlake.com.
"Special Olympics New York is delighted to be the beneficiary of, and to partner with, Darien Lake and Color Me Rad 5K for this tremendously fun event in June," said Special Olympics of New York President and CEO Neal Johnson. "Color Me Rad 5K is an energetic event for all, where the volunteers have just as much fun as the participants. Whether you register to run or volunteer for the race, you'll be helping Darien Lake and Color Me Rad 5K support more than 56,000 Special Olympics athletes across the state."
More than 5,000 pounds of FDA-approved, colored cornstarch will be used during the event. In addition to "Color Bomb Squad" volunteers spread along the 3.1-mile course, walkers and runners will also be able to toss their own bags of color into the air, creating an unforgettable display of color.
Photos from last year's Color Me Rad at Darien Lake by Howard Owens.