July 11, 2014 - 2:25pm
Previously reported police activity on Jackson Street turns out to be part of planned law enforcement detail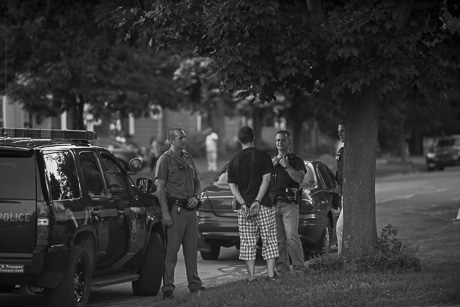 We now know that all the police activity on Jackson Street the evening of June 26 was more than just a response to an individual seen running behind backyards between Maple Street and Morton Avenue. It was part of law enforcement detail in the area aimed at identifying issues in the neighborhood. 
Earlier this week, the City of Batavia announced the results of the detail.
Police made contact with numerous individuals, some were on parole or probation.
The person seen running through yards was on parole, but not wanted, according to local law enforcement. He was released after none of the property owners who initially called about him wanted to file a trespass charge. Police are unsure why he decided to run and try to hide from law enforcement, if that is indeed what he was doing.
There have been complaints from citizens on The Batavian and on Facebook that they had their vehicles stopped for no or flimsy reasons, but Chief Shawn Heubusch said all traffic stops were made in accordance with guidelines related to probable cause. 
"Each traffic stop was conducted legally and with probable cause," Heubusch said in an e-mail response to our questions. "As for the probable cause for each I do not have that information. We do not generally keep track of that information unless an arrest is made (DWI for example)."
We asked about the probable cause for the 59 "data runs" reported in the press release.
Heubusch said, "As for the "data runs," these are done routinely when checking license plates or driver's license info, for any wanted-person info, or stolen vehicle, for example. New York State does not require probable cause to run a license plate attached to vehicle."
We asked for the arrest reports/press releases on each of the three arrests reported during the sweep and Heubusch said he would think those arrests would have been reported previously by each of the agencies making the arrests, but he would have to research that further.  
The detail is part of a plan announced earlier this year in keeping with the city's strategic plan, which calls for revitalizing neighborhoods. The effort is designed to identify problems and deal with them before they grow into something bigger.
July 12, 2014 - 10:47am
#2
If all those who were stopped for no real reason, were not ticketed, contacted the ACLU, I wonder if all would be on the up and up as the Cheif claims. The trooper who followed me made some very poor choices, like driving 30 mph in the bike lane, tailgated my vehicle, and pulled me over in a very busy area of rt 63. What would of happened if a youngster rode his bike out of his driveway and into the path of this trooper who was driving directly in the bike lane? I have 4 witnesses to back my claim. I beleive the trooper pictured in the photo was the law breaker who pulled me over. Might as well bring the National Gaurd in, secure a perimeter around the city and go house to house, thereby harassing, oops, I mean "protecting" everyone.