December 11, 2012 - 12:11am
Proposed technology park gets final STAMP of approval from Town of Alabama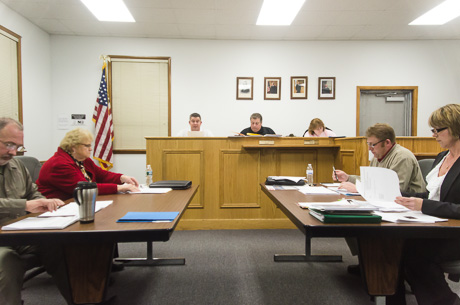 Five years of planning, public meetings, studies, environmental reviews and dozens of written reports came down to one vote Monday night in the Town of Alabama, and by unanimous decision, the town's planning board said yes to a proposed industrial technology park.
The 5-0 vote to change the zoning for 1,340 acres within the town's borders clears the way for the Genesee County Economic Development Center to aggressively market the technology zone and begin the process making STAMP the kind of "shovel ready" property that GCEDC officials say is necessary to attract big business.
Before the vote, Mark Masse, VP operations for GCEDC, said it had been hard work to get the development to the point of the pivotal vote, "but now we leave it in your hands."
"The town has been involved from the beginning in hiring consultants and getting a lot of work done looking at the project," Masse said. "We're excited to be at his point."
For the board, the decision came down to three key points: infrastructure for public water, support from the majority of town residents, and jobs.
Trustee Janet Sage noted the expense the towns of Bethany and Batavia are facing to bring public water to their residents, but under the agreement with GCEDC, the infrastructure for water will be created for 70 percent of the town residents at a reduced cost to ratepayers.
The total capital cost of the water project is $5.2 million.
An estimated $1.9 million in grants will reduce the cost of bringing public water to Alabama rate payers from $882 annually to $512 per year.
"We will be saving residents a lot of money over the long run," Sage said. "It would be a long time if ever before Alabama gets water if this doesn't pass."
Sage also noted that in a survey of residents, among those who responded, nearly 70 percent said they supported STAMP.
It was that support for the project that board members should note, said Alabama resident Sam Ferris.
"You should put your personal issues aside and vote the way the town wants," Ferris said. "We voted into into office to vote for our rights.  If you can't put your own personal thoughts aside, you should reconsider running when it's your turn to run again."
Other speakers echoed Ferris call for a vote in line with the majority support for STAMP, and Donald Sage spoke about how important the jobs are to the future of Alabama.
"I've lived here all my life and I've never been able to make a living here," Sage said. "I worked construction in Rochester to make a living for my family."
GCEDC estimates that at full build-out -- which may take as long as 25 years -- that STAMP could employ 9,300 people.
Sage went on to talk about the importance of family staying together and said he probably won't be around by the time the real benefits STAMP kick in, but his grandchildren will benefit.
"You should not have to worry about going to Dallas, Texas, or Raleigh, North Carolina, to get to spend time with your family," Sage said.
There were no speakers at Monday's meeting who opposed STAMP.
When Supervisor Dan Mangino announced the resolution passed 5-0, most of the 20 residents in attendance applauded.
In related action, the board set a public hearing for Jan. 14 to consider a 12-month moratorium on all commercial construction in the town that is outside of the STAMP district.
The moratorium would give the town time to developed new zoning laws in anticipation of STAMP-related growth, preventing unwanted commercial construction and destruction of farmland.
December 11, 2012 - 12:48am
#1
Trustee Janet Sage noted the expense the towns of Bethany and Batavia are facing to bring public water to their residents, but under the agreement with GCEDC, the infrastructure for water will be created for 80 percent of the town residents at no additional cost to ratepayers....
Were does this money come from for this public water...Is it taxpayer money..Is it fair that those in Bethany and Batavia have to pay ..
December 11, 2012 - 7:45am
#2
December 11, 2012 - 1:34pm
#3
Thanks for the update Howard..............Its just doesn't seem right to me that some get taxpayer money for water service to their house, in this case the town of Alabama will get taxpayer dollars to subsidize their water system.While other such as those in the town of Batavia get no break...Would the town of Alabama not agreed to this Stamp project without the taxpayer funded water system the GCEDC is promising them......