April 10, 2014 - 1:57pm
Ralph Peterson resigns as mayor of Corfu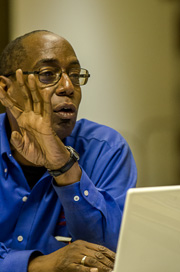 Ralph Peterson, the controversial mayor of Corfu, is now the former mayor.
Peterson turned in a one-sentence letter of resignation effective Monday.
His resignation follows an eight-month-long medical leave and comes after the village board put forward a budget proposal reducing the mayor's salary to $4 per year.
For nearly two years, Peterson and board members have been locked in a tangle over his conduct in office, including controversies over setting up an office in the mayor's office, his request for passwords to employee computers and keys to locked file cabinets.
Some board members suspected Peterson of trying to run interference for his friend, former village justice Robert Alexander.
Alexander was in the midst of his own controversy after it was discovered through a comptroller's audit that his daughter, and former court clerk, Brandi Watts, was stealing court funds.
She eventually admitted to stealing more than $10,000. As part of the plea deal, charges of coercion and official misconduct were dismissed against Alexander provided that he resign from his justice position in Pembroke (he'd previously not run for reelection in Corfu).
Peterson became the target of calls for his resignation and efforts to figure out how to remove him from office. In the midst of the kerfuffle, Peterson was reportedly hospitalized and a short time later, he turned in a doctor's note putting himself on medical leave.
No word yet on how Corfu's mayor position will be replaced.
There's a public hearing on the proposed budget scheduled for April 21.
April 10, 2014 - 5:43pm
#2
Howard and I love fun words and we have a slew of them in our arsenal. We endlessly amuse each other with them. Yea, that's our kind of fun.