March 26, 2013 - 9:25am
Ranzenhofer announces across the board funding increase for local road projects
Press release:
State Senator Michael H. Ranzenhofer has announced that the 2013-14 State Budget will increase funding for the Consolidated Local Street and Highway Improvement Program (CHIPS), providing more than $275,000 in additional funding for infrastructure projects in Genesee County.
"For the first time in five years, more funding for local road and bridge repair projects will go directly to towns, cities and villages in Genesee County. Maintaining and improving our infrastructure is so important to our economy, while keeping drivers and their passengers safe," Senator Ranzenhofer said.
In total, Genesee County will receive $1,674,921.93 in CHIPS funding, an increase of more than $275,581. The following is a breakdown of CHIPS funding by city, town and village: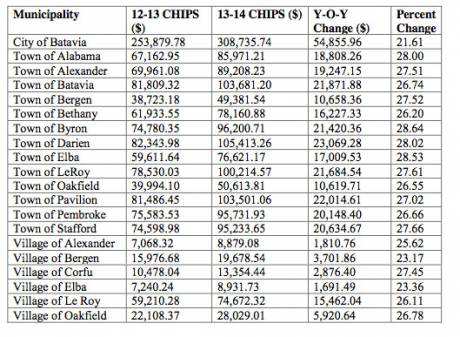 Earlier this month, Senator Ranzenhofer joined his colleagues in a letter to the Governor and Legislative leaders, requesting an increase of at least $100 million for CHIPS funding. CHIPS funding is included in the Article VII Budget Bill for Transportation, Economic Development, and Environment. The State Senate passed the Article VII for the 2013-14 State Budget on Sunday.
The State Legislature started the CHIPS program in 1981. The CHIPS program provides funding for the repair of highways, bridges and roads operated by local governments.
The 61st Senate District encompasses: the towns of Amherst, Clarence, and Newstead and the villages of Akron and Williamsville in Erie County; all of Genesee County; and the towns of Chili and Riga, the Village of Churchville and part of the City of Rochester in Monroe County.
March 26, 2013 - 10:03am
#1
Hooray! Maybe the City of Batavia will FINALLY dig up and fully re-pave Richmond Avenue, in front of the Blind School!! Oh, and how about Bank Street, just before the 45 mph zone!?! My truck sure is taking a toll from these areas and it would be a nice reprieve! I'd even give up the area on Bank Street for a complete redo of Cedar Street for when I visit DeWitt Park!
Whatever you do, just use the money wisely, City of Batavia!!
March 26, 2013 - 10:05am
#2
Not to be negative, but will this money be used to actually repair roadways or will it be another multi-million dollar restriping of Route 5 to "correct" insufficiently wide cross bars per Federal Highway Regulation blah, blah, blah? Without common sense prioritizing, most of this money will go to useless compliance projects instead of going where it will actually improve things. I guess my experience with big government spending has jaded my outlook.
March 26, 2013 - 10:21am
#3
Kyle, this is money going to local jurisdictions. Restriping Route 5 is a state DOT issue, not local