September 19, 2012 - 1:40pm
Rochester man arrested in Batavia for selling cocaine given prison term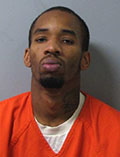 A Rochester man accused on two different occasions of selling cocaine in Batavia was given a prison sentence of four years Tuesday, and the time will be served concurrently with a prison term he's already serving on Monroe County charges.
Thomas L. Hill Jr., 22, entered a guilty plea June 29 to two counts of criminal possession of a controlled substance, 5th.
He originally faced four counts of criminal possession of controlled substance, 3rd, following arrests for selling cocaine on Oct. 8 at 335 Bank St., Batavia, and on Jan. 7 at 174 Ross St., Batavia.
Hill received two years on each of the counts he entered a guilty plea on, which will be served consecutively.