August 26, 2014 - 11:30pm
Serviceman returns from Middle East to big hometown welcome in Le Roy
posted by
Howard B. Owens
in
Le Roy
.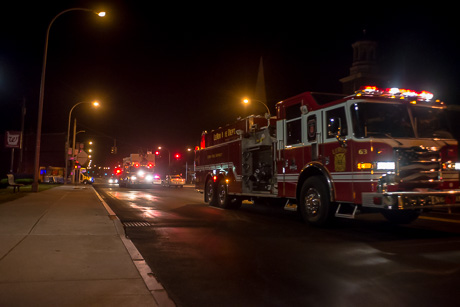 Le Roy resident Mike Risewick, returning from his second deployment to the Middle East, got a grand welcome home tonight, including a shuttle pick-up with friends and family at the Rochester Airport courtesy S&S Limousine. The Le Roy Fire Department provided a lights and siren escort from the I-490 into the village.
It's the kind of welcome, Risewick noted, that only happens in a small town. And only in a small town do friends and neighbors look out for the families of men and women deployed overseas.
"It's incredible," Risewick said of the welcome. "I certainly didn't expect it. It's easy for me to go do this, but all the time in the back of your mind, you're always worried about how the family back home is making out. Le Roy, the town, has just been great. The friends, all the carpooling rides, everybody coming together to make sure my wife and kids were taken care of. I couldn't ask for any more than that."
Risewick, who is with Bravo Company 6442 ASB (helicopter maintenance) has been in the military for 32 years, including three years active duty and the rest of the time attached to the National Guard. He was previously deployed to Iraq. This latest deployment -- which started in October with a trip to Ft. Hood in Killeen, Texas -- was to Kuwait.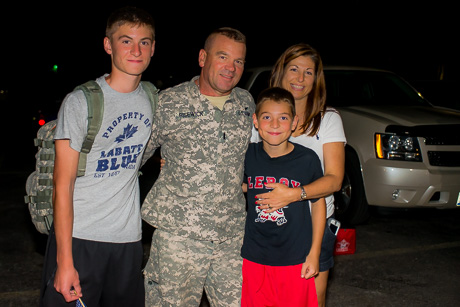 Risewick with wife Linda and sons Eric and Adam.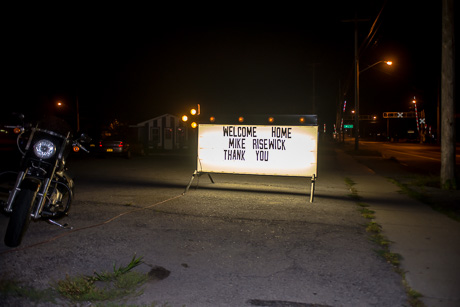 Sign outside Spirit's on Lake Street this evening.
August 27, 2014 - 7:28am
#1
Well deserved homecoming. Thank you for your service, Mike. Glad you made it home safe and sound.