August 5, 2013 - 8:04am
Sponsored Post: Meet the Buffalo Bills tonight at City Slickers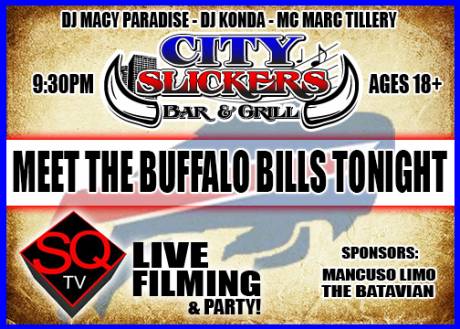 Tonight Sports Q TV will be at City Slickers filming their sports-center-style show! It's your chance to meet your favorite Buffalo Bills players and as many as 30 players could be there. The party starts at 9:30 p.m. and includes two djs -- DJ Macy Paradise and DJ Konda. The event is for ages 18+ to party, 21+ to drink and sponsored by Mancuso Limo and The Batavian.
Bills gear is encouraged and the restaurant will be open at 4 p.m. for dinner. Due to contractual agreements, player names can't be announced, however several rookies and starters are expected to be in attendance. 

City Slickers has also posted a flier on www.facebook.com/cityslickersbar, which can be printed out and for every flier turned in during the event, $2 will be donated to the Sheldon family in Bergen. Derek Sheldon was killed in Le Roy yesterday in a motorcycle accident.