June 12, 2013 - 10:32pm
Stage production of Charlotte's Web opens Friday at GCC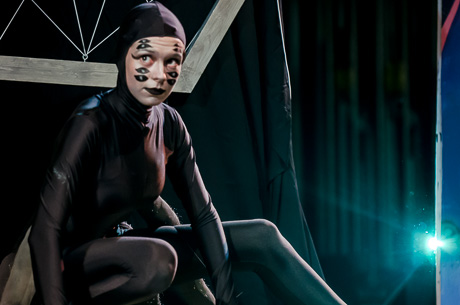 GCC's Forum Players Theater Company presents "Charlotte's Web" this week, opening at 7 p.m. Friday in the Stuart Steiner Theater.
Alumna Jaime Arena directs the production, which also shows at 2 p.m. Saturday and Sunday at 2 p.m.
From a press release:
The show is being produced with the support of The BEST Center at GCC by special arrangement with the Dramatic Publishing Company of Woodstock, Ill. Originally published in 1952, E.B. White's "Charlotte's Web" chronicles the life of Wilbur the pig  (played by 2010 GCC alumnus Robert Reiss). Born the runt of the litter, Wilbur is saved first by 8-year old Fern Arable (Brianna Jones of Batavia) who stops her father (played by GCC English Professor Norm Gayford) from killing the pig and nurses him to good health. In the barn at the Zuckerman farm, Wilbur encounters a spider named Charlotte (Margaret Gayford, of Warsaw High School), who spins magic when Wilbur's life is again in danger. A timeless tale of bravery, selfless love, and the true meaning of friendship, the play is adapted for stage by Joseph Robinette.
Other cast members include: Kayli Wilson (Canastota) and Jordan Griffiths (Milford) as narrators; Sania Hyatt (New York City) as Templeton; Courtney Amesbury (Bergen) as Mrs. Arable; William Rupp (Batavia) as Avery; Christian Hoffman (Hilton) as Homer Zuckerman; Alayna Zimbrich (Hilton) as Edith Zuckerman; Tony E. Heard (Fillmore) as Lurvy; Emily Jones (Waterloo) as Goose; and Norm Gayford as Old Sheep. William Rupp, Norm Gayford and Emily Jones will play fairgoers while Brianna Jones, Tony E. Heard and William Rupp will appear as spiders.
All tickets for the show are $5. An autograph session will be held after each performance. Tickets can be purchased by cash, check or credit card from the GCC box office at (585) 345-6814 or [email protected].
Photos from today's dress rehearsal by Howard Owens.