October 5, 2012 - 4:18pm
State Police say tips from public vital in helping to uncover clandestine meth labs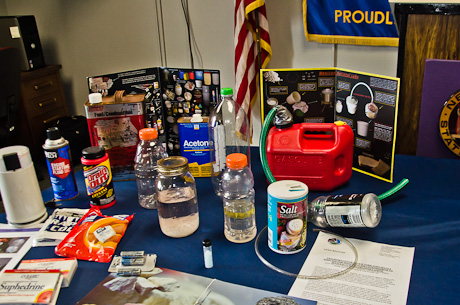 They're items you might find around the home of any Genesee County resident any day of the week -- Drano, salt, kitty litter, batteries, soda bottles and cold medicine -- but mixed together the chemicals can become deadly, either to the people seeking a high from methamphetamine, or to those consumed by fires when the chemistry goes bad.
At the Batavia barracks today, officers with the State Police met with media from throughout the region in the hope of educating the public about meth labs that might be found in their own neighborhoods.
"We need the public to help us," said Major Christopher Cummings, commander of Troop A in Batavia.
A chemical smell might alert a concerned citizen to a possible meth lab nearby, or if a person finds discarded materials along the side of a roadway or in a field, Cummings said they should call local law enforcement to check it out.
Such a lead could help uncover a clandestine meth lab.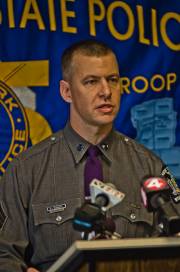 While across Central and Western New York, the number of meth labs raided by State Police has increased considerably -- rising from 45 in 2011 to more than 100 so far in 2012 -- there have been no labs detected in Genesee County since April 2011.
That lab, found in South Byron, came at the end of a spate of methamphetamine arrests that began with the bust of Kenneth Mosholder and accomplices in November 2009.
Last week at a press conference about prescription drug drop-offs, U.S. Attorney for Western New York William Hochul and Sheriff Gary Maha said there was no known meth activity in Genesee County.
Today, Cummings confirmed that activity locally seems to be way down.
"That's not to say they're not out there," Cummings said. "You don't know what you don't know."
Public education, Cummings said, is essential to uncovering meth labs.  Members of the public need to know what goes into making meth so that if they find the disposed waste of meth production they can report it, or if they smell a chemical smell that's unusual, they can call it in to police.
Doug Wildermuth (inset photo), head of the Contaminated Crime Scene Emergency Response Team, said there is no one description for the odor of meth. The best he could say was "it's a chemical smell." Because there's so many different recipes, it just isn't possible to say it smells one way or the other.
Part of today's press conference was aimed at educating the public on the inherent dangers of meth production.
There is no way to make it that doesn't involve some fire risk -- even with the so-called "one-pot method" that is commonly used these days.
"These are not labs as you might think of them," Cummings said. "These are not neat and clean. They're haphazard arrangements in sheds and garages."
A typical recipe includes ether (engine starter), sulfuric acid (drain cleaner), salt, lithium (batteries), anhydrous ammonia (fertilizer) and any number of different types of over-the-counter cold medications.
"All of these items are easy to get and easy to mix," Wildermuth said. "It's just that scary because it's just that quick."
While recipes for meth are easy to obtain online, the typical meth cook learned the process from another meth cook.
Local law enforcement, for example, maintained that many of the meth labs raided after Mosholder's arrest could be traced to Mosholder teaching others how to cook. Mosholder, originally from Genesee County, reportedly learned while in Texas.
While there are big meth lab operations in Mexico, where big drug cartels use more sophisticated methods than "one-pot," not much of that drug seems to be making its way to New York, authorities said.
The typical one-pot meth maker is mixing the chemicals for his or her own consumption and maybe only sells off a small amount of excess drug.
Once a lab is found, the clean up is expensive requires every environmental precaution. For the South Byron raid in 2009, The Batavian was invited by the Sheriff's Office to observe the operation. Pictures from that raid -- evidence collection handled by the State Police -- can be found by clicking here.