May 29, 2012 - 11:53am
Steve Hyde named NYS Economic Developer of the Year
Press release:
Steve Hyde, president and CEO of the Genesee County Economic Development Center received the Economic Developer of the Year award by the New York State Economic Development Council (NYSEDC) at the organization's annual meeting on May 24th in Cooperstown. Hyde also was named vice-chair of the NYSEDC's board of directors.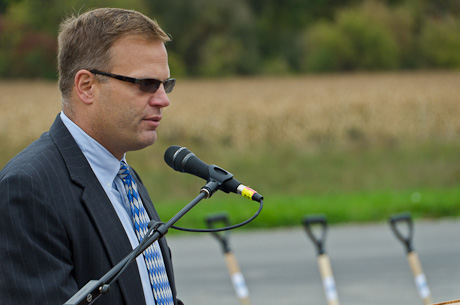 "Steve has shown strong, creative leadership in leading the ongoing transformation of Genesee County into one of the state's most promising regions for growth," said Brian McMahon, executive director of NYSEDC.  "Steve's colleagues in New York's development community especially admire his balanced approach to development. He has built a broad portfolio of success that includes high-tech development, agri-business related growth and life sciences based opportunity, and development of housing and livability-related initiatives."
In presenting the award to Hyde the NYSEDC cited that since 2003 more than 300 economic development projects have come to Genesee County generating more than $610 million worth of capital investment and the creation of approximately 3,149 jobs.
"While I am humbled by this award and recognition, it would not have been possible without the strong collaboration between the public and private sectors in Genesee County and the dedication and hard work of my staff," Hyde said. "I want to especially recognize the leadership of our board and our board Chairman John Andrews and Genesee County Legislature Chairwoman Mary Pat Hancock as well as all of the elected officials who represent Genesee County."
The GCEDC also was the recipient of certificates of excellence for the organization's electronic newsletter and Web site, and received an honorable mention for its marketing and promotional materials.
Photo: The Batavian file photo.
Granted, I'm just a dumb old Genesee County hick without a whole lot of insight on this here EEEconomical development stuff, but I do have me an internets connection and when I look up employment statistics, I can't seem to make much sense of the 3,149 jobs created since 2003 claim. In fact last year, neither could other Batavian readers (and some of thems is pretty smart):
http://thebatavian.com/howard-owens/number-jobs-genesee-county-hasnt-cha...
According to the link to NYS labor dept the 2003 average for non-farm labor was 23,200 and for 2011: 22,700. What?
City-data.com wasn't quite as current, but is similar.
They have employment at 23,389 at the start of 2003 and 23,343 at the end of 2009.
I'm hopin' one of you bestest and brightest can explain it in terms a dummy like me can understand.