January 30, 2014 - 3:13pm
Still no decision on new attorney for man facing additional sexual abuse charges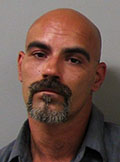 Earl Sprague
It's still not clear who will represent Earl Sprague in his second trial on child sexual abuse charges.
Sprague, already serving a 21-year sentence on child sexual abuse charges, appeared in County Court today dressed in state prison green, to hear Judge Robert C. Noonan tell William Tedford from the Public Defender's Office that regardless of who represents Sprague, the trial is going forward March 24.
The 42-year-old former Alabama resident faces an additional eight felony  counts, including two counts of burglary, 1st, sexual abuse, 1st, criminal sexual act, 1st, aggravated sexual abuse, 1st, two counts predatory sexual assault, a Class II-A felony, and one count of assault, 1st.
The Class II-A felony carries a possible life sentence.
Last week, Sprague asked that Fred Rarick, who was court-appointed to represent him in his trial on 28 felony counts, be dismissed as his attorney for the second trial.
Noonan granted his wish and assigned the case to the Public Defender's Office.
Today, Tedford asked Noonan to delay the case because Tedford already has four possible trials between now and April, plus the office will be short-handed at the end of March because Public Defender Gary Horton is retiring.
"My personal trial schedule will give me a limited time to prepare," Teford said. "While I consider myself a quality attorney, I submit that six weeks to properly preper for a trial on such serious charges would result in ineffective counsel for Mr. Sprague.
Noonan said it's actually seven and a half weeks, which should be enough time to prepare; however, Noonan said taking everything into account, he has arranged for an attorney from the assigned council office to come to court tomorrow and go over the case with Sprague and Tedford and see if he will be able to take on the case and be ready for trial March 24.
"This case has lingered on far too long," Noonan said.
January 31, 2014 - 7:08am
#1
When Earl gets out of prison , Mr. Platt has a room for you .
January 31, 2014 - 9:42am
#2
This dude is a candidate for indefinite confinement if I've ever seen one.