August 31, 2014 - 2:43pm
Stolen vehicle found partially submerged in quarry off Circular Hill Road, Le Roy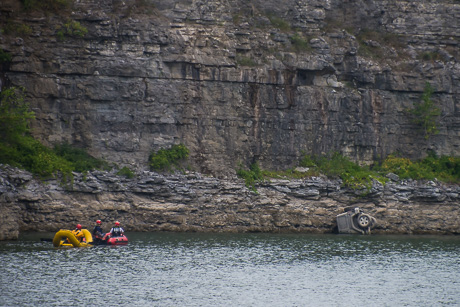 A partially submerged vehicle in a water-filled quarry off Circular Hill Road in Le Roy caught the attention of a Hanson Aggregates employee this morning.
He called the Dispatch Center at about 10 a.m. and reported his find, which generated a response from the Sheriff's Office, State Police and the Le Roy Fire Department. 
"Our first concern was how it got there and if anybody was still inside it by chance," said Sgt. Jon Szumigala, of the Sheriff's Office. "The report we received is that the vehicle looked like it had  been there for quite some time. But we had to check and see if by chance if anybody was in it."
Water rescue teams for Le Roy fire and City fire checked the vehicle and surrounding water and the search indicated there were no victims of a crash.
Firefighters retrieved the vehicle's license plate number and VIN number. It was a 2013 Jeep Wrangler stolen May 20 in Pittsford, Szumigala said.
The vehicle dropped some 40 or 50 feet from the cliff to the rocky shore below.
"It appears that at one one point it was completely submerged and that's why it's taken so long for someone to actually spot it," Szumigala said.
A tow truck from Stella's Collision was called to the scene to retrieve the vehicle.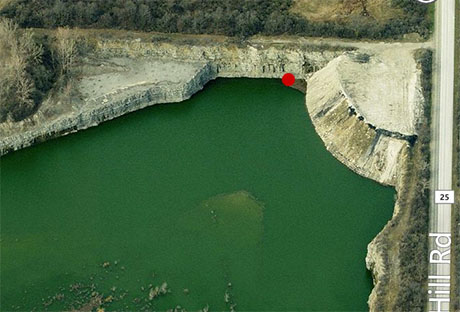 Satellite image from Bing: This isn't an exact representation of the landscape at the quarry today. There is quite a bit more growth along the northern side of the quarry and on the seemingly manmade plateau in the northeast corner. We've added a red dot for the approximate location of where the vehicle was found.