March 14, 2013 - 9:56pm
Students rally to support Blue Devils as team heads off to Glens Falls for Final Four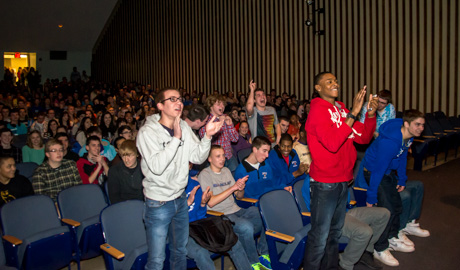 A full auditorium of Batavia High School students cheered on the varsity basketball team as it gets ready to head off to Glens Falls for the state championship basketball tournament.
The Blue Devils made the final four when sophomore Jeff Redband nailed a buzzer beater Saturday to beat Olean 63-62 in the Far West Regional championship game.
The shot was replayed during the pep rally and as the ball went in, the auditorium exploded in cheers, including from Redband's teammates (above).
Batavia takes on Watervliet at 8:30 p.m., Friday.
The Cannoneers come into the tournament with a seemingly unimpressive 16-8 record, but five of those losses were the result of a forefeit early in the season after officials discovered the team had an ineligible player on its roster.
The team has one three straight sectional championships and last year lost the state championship Class B game by one point to Bishop Ludden.
They're a really good team," said Batavia Head Coach Buddy Brasky after the pep rally.
Like Olean, Watervliet features two high-scoring guards. Both seniors are headed to NCAA Division I schools next season.
"They're probably going to be the two best players combined that we've faced all year," Brasky said. "They average about 45 points between them."
Jordan Gleason, wearing #1, is 6'1" and is heading to Sacred Heart. He averages 24 points a game and is a good three-point shooter, Brasky said.
Tyler McLeod, wearing #10, is 6'3" and is being recruited by La Salle in the Atlantic 10. He averages 21 points a game and is a "pull-up jumper" type of guard, Brasky said.
"Just like Olean had two kids who averaged about 40 points a game, our goal is to keep them in the low 30s," Brasky said. "If we can do that, we can be right there."
According to a Times-Union article, the Cannoneers will bring a freshman guard who has been a key part of the team's success this season. Ty'Jon Gilmore averaged 23 points in Watervliet's regional championship game.
Gilmore enters Friday's contest averaging 8.3 points, 4.5 rebounds, 3.1 assists and 3.0 steals per game.
DiBacco says Gilmore's ability to be disruptive defensively has strengthened the Cannoneers' ability to press and trap the opposition.
"It gives me the chance to put Jordan and Tyler in the back of a lot of our traps and use our length and speed," DiBacco said. "Ty'Jon is a big reason why we're (in the state semifinals)."
Brasky likes to pressure opponents and get them out of rhythm.
"They try to make up and down, high tempo game," Brasky said. "Our challenge is to handle their pressure, try to get it to a half-court game where we can get into our half-court sets. If we can get them into half court, I think we can be successful defensively."
After Redband's big shot and the national attention it gained, it was a bit of a challenge to bring the Blue Devil players down from the excitement, Brasky said, and he kind of let them ride the high through Monday's practice, but on Tuesday, they came in focused and have remained focused since.
"They believe they can win and that's half the battle," Brasky said.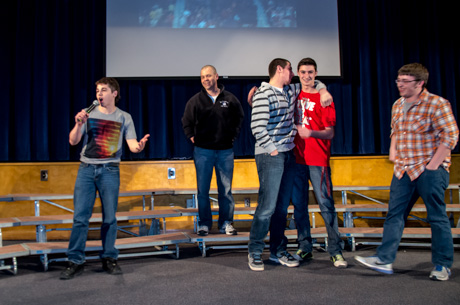 The senior leaders of the team's boosters give the players a pep talk.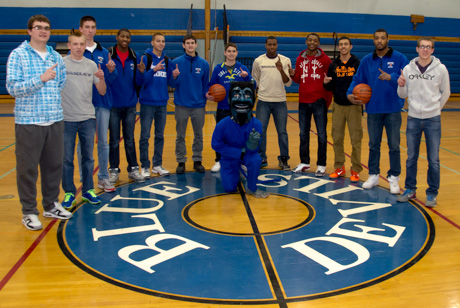 After the rally, a team picture.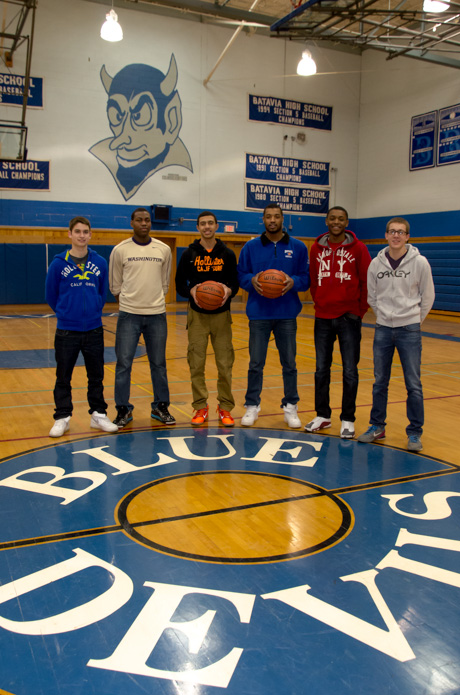 The senior players.
March 15, 2013 - 2:38pm
#1
Buddy may not have 600+ wins, but he is one heck of a coach and mentor for those boys. Bring home a Public School State Championship and make Batavia proud.