January 29, 2013 - 9:24am
Supporters of Genesee ARC push case for agency to keep garbage contract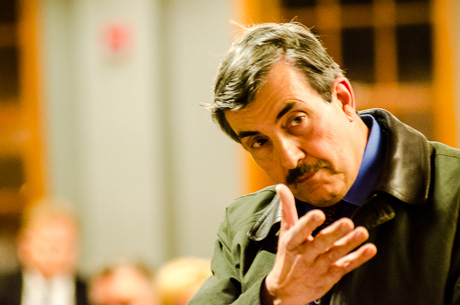 Supporters of Genesee ARC packed city council chambers Monday night and encouraged the council to keep jobs local, support workers with disabilities and consider whether a proposed new garbage collection system would really save residents money.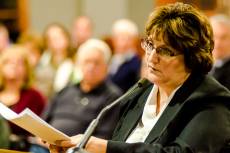 Of the 16 people who spoke, all but about three of them encouraged the council to stick with ARC for garbage collection, whether under the tote system or not. Of the Genesee ARC supporters, about half of them opposed the totes for one reason or another.
"If a business expressed an interest to locate to this area and create 30 new jobs, most areas would offer some kind of incentive to promote them to come to this area and I would hope you would, too," Dave O'Geen said. "Well, we have the opportunity to keep a business with the 30 jobs that the trash and recycling center currently employs."
O'Geen, like every Genesee ARC supporter, received a big round of applause from most of those in attendance. Those who spoke in favor of going to the new system and awarding the bid to the lowest bidder were met with silence.
"Most people I know don't care who gets the contract as long as it's the best contract at the lowest price," John Roach said.
The council set a Feb. 11 date for a public hearing on proposed changes to city ordinances to make the new system possible.
Several speakers appealed to the council not to hire an out-of-state contractor.
"Let's talk about the $450,000 in lost revenue from the people at ARC who will lose their jobs," Carol Grasso said. "Did you ever stop to think that their money is spent right here in our area? Yup, $450,000, I checked it out, that's their paychecks. They spend it here in the city. It's like having free trash pick up as far as I'm concerned.
"Some small cities need to stay small," Grasso added. "Let's do what's good for Batavia, not some other state."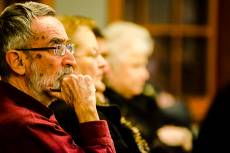 Tom Houseknecht, a generous financial supporter of Genesee ARC, questioned the dollar-and-cents value of the proposed change in trash collection.
While Houseknecht, who owns commercial property in the city, welcomes a decrease in property tax, he considers the switch to a fee-based system for trash pick-up a "regressive" tax on the city's less well-to-do residents.
"The minimum size tote that will be issued by the city is currently projected to cost a resident $169," Houseknecht said. "With tax rates decreasing $1.56 per thousand, anyone with an assessed value of less than $108,000 will actually be paying more. ...
"If my conclusion is correct," Houseknecht added, "I would ask council to focus on the greater good for the majority of their constituents and not succumb to the lure of lower tax rates that result when refuse is removed from the operating budget."
Paula Fisher (top inset photo) thinks any decrease in the tax rate will be short-lived.
"The levy for trash pick-up in previous budgets was approximately 20 percent," Fisher said. "Our tax rate is going down 14 percent. This tells me our tax rate is going up six. In five years, our tax rate will be right back up there, ARC will be out of the trash business and the bids for trash collection, since they know we don't have (a) preferred vendor available, will go up."
John Mortollaro said he doesn't really understand the financial implications.
"I still don't understand how much we're going to save and how much it's going to cost," Mortollaro said. "I think this needs to be brought out and explained to the people so they can understand it better."
Kyle Couchman said he's dealt with the kind of proposed plastic totes before, and they don't hold up to Western New York's harsh winters.
Several speakers said older residents will struggle with the totes, Batavia's homes are really too close together to store the totes in a way that isn't unsightly, and that they will be difficult to put by the curb when snow is heavy.
Roach said he has friends and relatives in the garbage collection business in other cities and such concerns are overblown, he said.
"These totes last forever," Roach said. "As for parking and the driveway situation, it's much worse in Kenmore than in Batavia and they don't really have a problem getting them to the end of the driveway. I don't have a garage and storing them in my backyard isn't something I'm looking forward to, but it's not going to be insurmountable either."
Ed DeJaneiro (top photo) said he likes the totes and thinks the new system will encourage recycling. He would just like to see ARC get the contract.
"ARC has always been there for us," DeJaneiro said. "They will continue to be there. I know it's more money, as proposed, but we're not sure how much recycling response we're going to get."
Bottom inset photo: City Historian Larry Barnes listens to the discussion.