July 15, 2012 - 1:32pm
Suspect accused of falsely reporting theft of jewelry, marijuana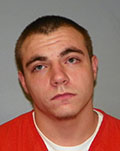 A 20-year-old Le Roy resident who allegedly reported a residential burglary and claimed jewelry and marijuana were stolen has been accused of stealing the jewelry himself and falsely reporting an incident.
John H. O'Shea was already in the Genesee County Jail on unrelated charges when he was arrested by Le Roy PD earlier this week.
O'Shea is charged with grand larceny, 4th, and falsely reporting an incident, 3rd.
According Le Roy PD, O'Shea contacted police April 19 and claimed a safe full of jewelry belonging to a relative along with his personal stash of marijuana were stolen from his home in the morning hours while he was fishing.
A subsequent investigation revealed the report was allegedly false and that O'Shea either allegedly stole or took part in the theft of the jewelry.
O'Shea remains in jail on an unknown amount of bail.
July 15, 2012 - 1:35pm
#1
Really ? He called the police because his MARIJUANA stash was stolen ???? Unbelievable.