May 6, 2014 - 10:54am
Suspect in armed robberies has burglary charge added to his indictment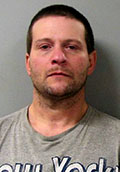 Mark Maltese
A former Dellinger Avenue resident arrested in November following a string of robberies in Batavia and Oakfield as well as an alleged botched burglary of a local Rent-A-Center was arraigned on a new burglary charge this morning.
Mark J. Maltese, 42, was arraigned in front of Judge Robert C. Noonan in County Court on the seven-count sealed Grand Jury indictment.
The indictment was sealed because it contained the new burglary charge.
Maltese was already charged with three counts of robbery, 2nd, burglary, 3rd, and criminal mischief, 2nd.
He's now being accused of second-degree burglary and grand larceny, 3rd, for allegedly breaking into a residence on Hutchins Street on March 26, 2013, and stealing a safe with cash and jewelry worth more than $3,000.
Maltese is accused of committing armed robbery Nov. 21 at the Best Western in Batavia, Nov. 22 at the 7-Eleven in Oakfield and Nov. 24 at the Days Inn in Oakfield.
He was arrested Nov. 27 after he and an alleged cohort broke into the Rent-A-Center in Batavia and allegedly stole a big screen TV. They were tracked to a residence on Colonial Boulevard.
Previously:
I wonder how these guys and gals feel once they kick their addiction in jail. Do they do something like Steve Urkel?