May 1, 2013 - 1:14am
Tax breaks for reuse of Lowe's space essential, argues COR Development VP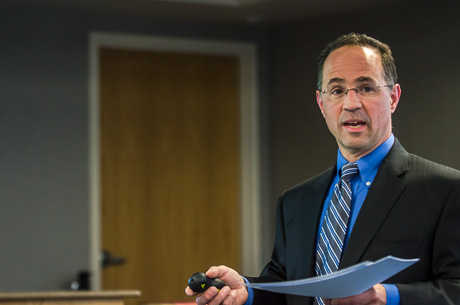 Syracuse-based COR Development is planning four retail spaces for the south end of Batavia Towne Center, VP Joseph B. Gerardi said at a public hearing Tuesday night, and to fill those spaces, COR needs more than $1 million in tax abatements.
Filling those spaces is "better for all the tenants in the center," Gerardi said.
"It would provide a diverse shopping experience so tenants can help attract other tenants to the shopping center," Gerardi said.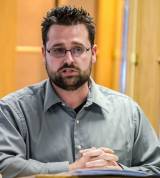 Without the tax incentives, the four potential companies -- which Gerardi said could generate $1 million in local sales tax revenue -- may not come to Batavia.
Even though the four businesses would generate $16 million in gross sales, going by Gerardi's sales tax estimate, Batavia isn't an attractive enough market without the tax breaks.
And even though the four potential businesses would spend, on top of the $7 million COR would invest in the project, $11 million before the first cash register recorded the first sale, Batavia is too marginal a market to attract these retailers, Gerardi said.
Gerardi (top photo) refused to talk with reporters to clarify these points following the public hearing.
COR's plan is to convert the former Lowe's location from 138,000 square feet of retail space into 170,000 square feet of retail space.
In previous media reports, COR CEO Steven F. Aiello has said COR doesn't need to lease out the Lowe's space because Lowe's is obligated to another 15 years of rental payments, but Gerardi argued Tuesday that the proposed expansion is critical to Batavia Towne Center's viability.
"The dark store is not, in our opinion, a good reflection on the center and it's not a good reflection on the community," Gerardi said.
The one retailer COR has confirmed as a potential tenant is Dick's Sporting Goods.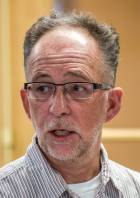 In 2012, according to the company's annual report, Dick's generated $5.8 billion in annual sales and achieved a net profit of $291 million, or an average of $405,000 in net profit for each of its 518 locations. On average, gross sales of $11.2 million per store.
Two of Dick's locations are in shopping centers in Webster and Clay developed by COR without the kind of tax breaks COR is seeking in Genesee County.
A group of about a half dozen local Libertarians spoke at the public hearing, arguing that tax breaks for COR would benefit national chains at the expense of existing competitors.
"I believe your intentions are good, but I find fault in your logic," Jim Rosenbeck said (second inset photo). "The reality is you can't give money to one business without disadvantaging its competitors. You are picking winners and losers and that is simply wrong."
Current state law prohibits tax incentives to develop retail outlets, unless the local IDA -- in this case Genesee County Economic Development Center -- can find that the retail center will attract tourists (defined in the law as people who travel from outside the IDA's jurisdiction) and the stores will fill a need not yet met by existing retail.
Gerardi said Batavia Towne Center does attract shoppers from outside Genesee County and the stores in the center do offer goods and services not previously available in Batavia.
Phill Ricci (top inset photo) took issue with the idea that Batavia Towne Center could be considered a tourist destination.
"Hotels are not filling to the rafters because we have a Target," Ricci said. "Little Jimmy doesn't dream about seeing his favorite animi characters in the halls of Bed Bath & Beyond. To attempt to justify it as a tourist destination is hollow at best and laughable at worst."
COR initially received a promise of $4.6 million in tax abatements to build Batavia Towne Center with the promise of creating 297 full-time equivalent jobs. Gerardi said the development peaked in at 277 FTEs before Lowe's closed.
Rosenbeck said it was as if GCEDC helped COR build a new house and now COR wants more money to remodel it.
Gerardi said the four new stores would create 100 FTE jobs.
Elba resident Fred Read said that's just what they are -- FTEs, not real full-time jobs, but jobs with low pay and few benefits.
"They're not the kind of jobs that are going to keep young people here," Read said.
None of the speakers supported COR receiving another round of tax incentives for the project.
A letter from local business owner Jerry Arena was read into the record. Arena, who owns Jerry Arena's Pizza and Ten Cent Millionaire Tavern, said he opposes tax incentives for national retailers.
"Independent small businesses in Batavia are an endangered species and offer much more quality of life and stability to a community that many of us will ever realize," Arena wrote.
The GCEDC board will vote on the proposed tax incentive package for COR at its regular meeting Thursday. The public portion of the meeting is expected to begin at 4:40 p.m.. The board meets at the Med-Tech Center on R. Stephen Hawley Drive, Batavia.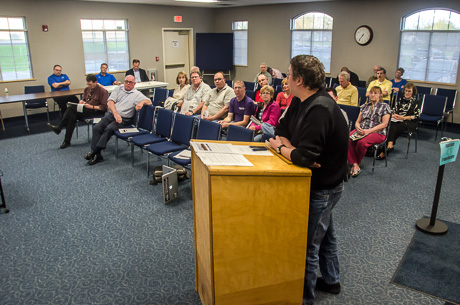 "Rosenbeck said it was as if GCEDC helped COR build a new house and now COR wants more money to remodel it"
Well said. Hit the nail on the head 100%