July 10, 2014 - 11:58pm
Third annual 3-on-3 tournament at Williams Park set for Saturday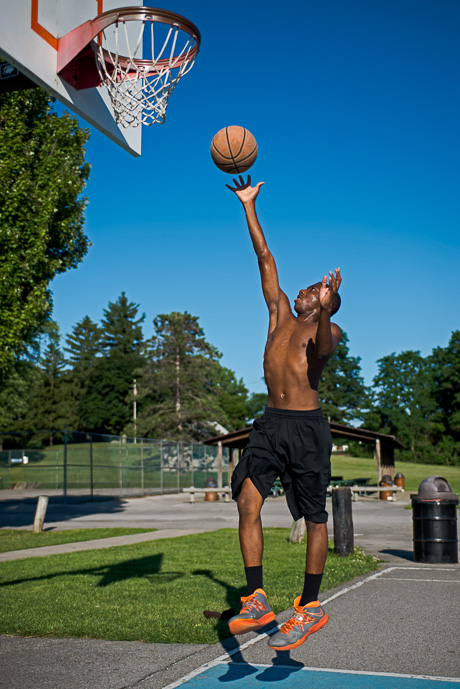 Davon St. John drives for a layup during a bit of a practice session today at Williams Park in advance of Saturday's third annual 3-on-3 Tournament organized by Jerry Smith.
The tournament this year is sponsored for the first time by The Batavian.
Registration opens at 10 a.m. First game is at 11 a.m.
The cost is $50 per four-player team. Each team is guaranteed at least four games.
There are boys and girls divisions grades 5 through 12, an 18-19 year-old division, and a 30 and over division.
The winners will receive champion T-shirts.
Event supporters include Venue Entertainment, Big Pauly's Pizza, Southside Deli, Extreme Streetwear, Direct TV, Showtime Player Development, Buffalo 716ers, Erie Hurricanes, Ficarella's Pizzeria, and Genesee Clean-Out.
Thanks to Davon and his father, David, for the fun game of 21. It's the first time I've played basketball in at least 25 years.
Davon is entering his junior year at Bennett High School in Buffalo. He was part of the Pembroke program. His father hopes there might be a way he can return to Genesee County -- Batavia or Pembroke -- before the start of the high school basketball season.