November 29, 2012 - 8:31am
With three votes against funding GCEDC, legislature approves 2013 budget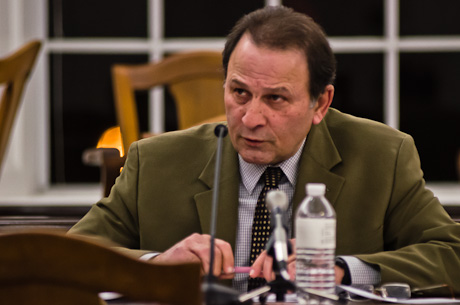 New version of what was originally posted at 9:45 p.m., Wednesday, to include more information.
On a 6-3 vote Wednesday, the Genesee County Legislature passed a 2013 budget that holds the line on property taxes, raises the pay for management and includes a $213,000 subsidy for GC Economic Development Center.
The three no votes came from legislators Ray Cianfrini, Frank Ferrando and Marianne Clattenburg, who all objected to the subsidy.
It's rare for members of the public to speak at regular meetings of the Genesee County Legislature. In fact, there is never a regular agenda slot for public comment, but last night one resident did show up and was permitted to speak.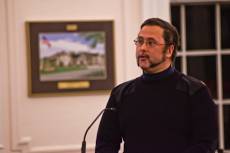 Kyle Couchman (photo at right) was at the meeting to suggest the majority of the legislature is out of touch with the wishes of their constituents.
He pointed to a poll that ran on The Batavian that he said indicated 70 percent of county residents oppose continued funding for GCEDC.
"I find it a bit ridiculous that people would glaze it over," Couchman said.
Cianfrini (top photo) said he agreed with Couchman's assessment of voters' wishes.
"The public is overwhelmingly opposed to we as a legislature funding GCEDC while they continue to insist upon paying bonuses to their employees," Cianfrini said. "As a result of last week's vote, it appears a majority of our legislators are not sensitive to the public's mood on this matter."
Over the past few years, Cianfrini said, the legislature has made budget cuts that have cost county employees their jobs. Those job losses have meant hardships for individuals and families as former employees struggled to make ends meet, he said.
"Yet we continue to fund the Genesee County Economic Development agency with taxpayer dollars so that a few privileged employees can share in the astronomical bonuses the board of GCEDC continues to award," Cianfrini said.
Incoming GCEDC Board Chairman Charlie Cook has said previously that while employees will be paid bonuses based on 2012 performance measurements, as the board is contractually obligated to do, there will be no performance bonuses for 2013.
Ferrando (bottom inset photo) said the legislature should not give GCEDC a blank check. There should be some method for ensuring the funds from the county are being used appropriately.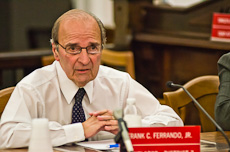 "I do my best to listen to the constituents who put me here," Ferrando said. "Everything I hear, they object to funding GCEDC, at least without some strings attached."
For Clattenburg, who also opposes taxpayer money going to bonuses, the big issue is that while GCEDC has done a great job of driving business development in the county, none of GCEDC's efforts seems to be focused on the City of Batavia, which Clattenburg represents (along with Ferrando and Ed DeJaneiro).
"I don't think the focus on the city hasn't gone where it needs to go and that's where my constituents are," Clattenburg said. "I would hope that next year when this comes around I'll be able to support the GCEDC, but I can't do it this year."
None of the other legislators spoke up to defend their votes on the budget, though Esther Leadley did say, for the benefit of the first-year legislators, that if the budget didn't pass, the responsibility would fall to the county's budget officer (County Manager Jay Gsell).
"That means considerably more in terms of tax levy," Leadley said.
For 2013, the county's property tax rate will remain the same at $9.89 per thousand of assessed value.
The $144,980,450 spending plan represents a 2.2-percent increase over 2012, with much of the increase in spending driven by state mandates, especially in pensions and Medicaid.
The tax levy for 2013 will be $26,303,725, an increase of about 2 percent over 2012.
Pay raises for management were approved unanimously in a separate resolution vote.
The following positions will receive a 1.5 percent pay increase:
The following are elected officials and department heads in line for a salary increase of 1.5 percent next year:
County Manager Jay Gsell -- $1,551 raise for 2013 salary of $104,935;
Sheriff Gary Maha -- $1,374 raise for a salary of $94,957;
County Treasurer Scott German -- $1,282 raise for a salary of $87,377;
County Clerk Don Read -- $1,207 raise for a salary of $82,702;
County Attorney Charles Zambito -- $1,338 for a salary of $91,338.
Listen:
November 28, 2012 - 11:58pm
#3
I made that point John as well as others like the fact that the Gcedc's little cheering section must think very little of the people they represent by voting to continue funding them. I also pointed out how they ignored the option of not removing the funding but making them apply to ways and means and show cause. I'm sure Howard will cover it in the morning. I also mentioned the poll results we had on the gcedc issue.