March 27, 2014 - 6:52pm
Tops is once again carrying Alpina Greek Yogurt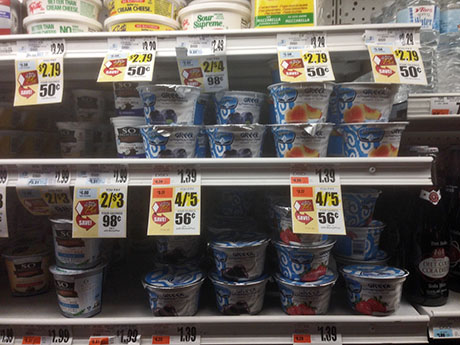 Alpina Greek Yogurt has returned to the shelves of Tops Market in Batavia and Le Roy (Warsaw, as well).
The grocery stores carried Alpina when it was first introduced domestically, but then the product disappeared from store shelves without explanation.
That product was the kind of with granola-like toppings. Tops is now carrying a type of Alpina Greek Yogurt with fruit at the bottom. Alpina also makes a kind of blended yogurt (my favorite), but that isn't available at Tops -- at least it wasn't today.
Alpina is not being stocked in the dairy/Greek Yogurt section. If you want to find it, you need to go to aisle 3, the organic food section (at least, in Batavia).
This is noteworthy, of course, because Alpina Greek Yogurt is made in Batavia. The Alpina plant is in the Genesee Valley Agri-Business Park.
March 27, 2014 - 7:58pm
#1
Great! Too bad all my coupons expired last year!!! :-(