January 4, 2013 - 3:06pm
Traffic tied up on Clinton Street for property damage accident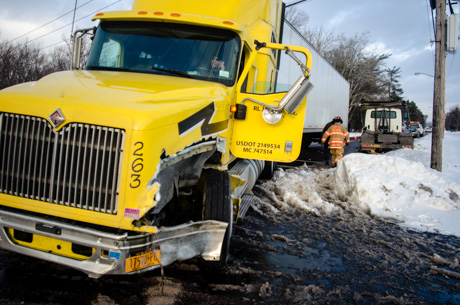 Traffic is being diverted off Clinton Street to East Avenue while Batavia PD deals with a two-car, non-injury motor-vehicle accident.
Batavia Fire Department is requested to the scene.
UPDATE 4:23 p.m.: Initial indication is a town snow plow was stopped southbound on Clinton and was allowing a Haul-4-Less truck to make a left-hand turn from East Avenue onto Clinton. A semi coming up behind the plow truck may not have seen the plow truck stopped and tried going around the plow truck, hitting the Haul-4-Less truck. No injuries. Heavy wreckers had to be called in for the disabled trucks and traffic was blocked in both directions.
Related, local law enforcement officers are currently working a handful of property damage accidents in various parts of the county. All seem to be weather related.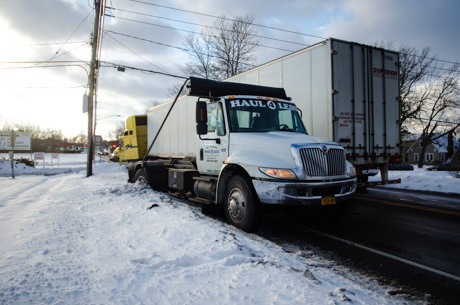 January 4, 2013 - 6:52pm
#1
The guy in that yellow truck just lost his job if he's a company driver. Traveling the expressways between Webster and Le Roy every day, I get so see every type of trucker on the road. Fedex drivers are always way over the speed limit, this I would attest to. Many truckers maintain their distance and hold their lane. I applaud those drivers. A few other truckers, though, they steer their truck through traffic like they're in their SUV. They tailgate, they're aggressive and they often use no signals. I've covered a lot of miles in almost every state in the country including Alaska and not all truckers are professionals. I'm not saying this one isn't, but ....