August 2, 2014 - 10:42am
Truck rolls over on Bank Street after swerving to avoid dog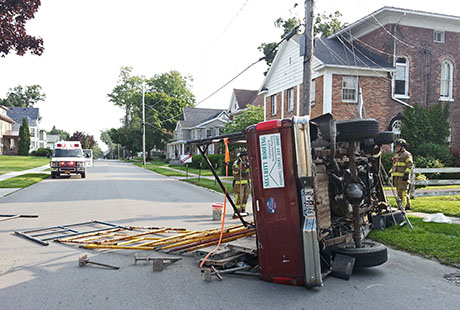 A Security Roofing pickup truck was traveling north on Bank Street at about 8 a.m. when it swerved to miss a dog in the road, hit the curb and then a guy wire of a utility pole, causing it to roll onto its side. 
The location was just north of Washington Avenue.
The driver of the pickup, a male in his 30s, was transported to UMMC to be checked out. 
The truck's load of scaffolding spilled onto Bank Street.
National Grid called to the scene to fix the guy wire.
City fire also on location for leaking fluids from the truck.
Photos and reporting by Alecia Kaus / Video News Service.