August 19, 2014 - 7:53am
UPDATED: Tractor-trailer on its side on Route 63, Pavilion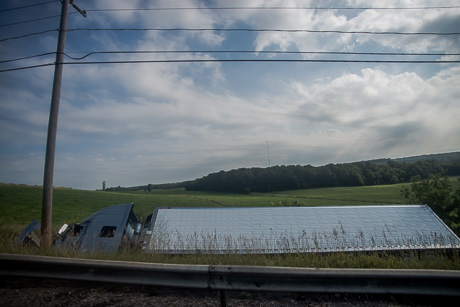 A tractor-trailer has reportedly rolled onto its side on Route 63, near River Road, in Pavilion.
Pavilion fire is dispatched.
UPDATE 7:55 a.m.: A firefighter on location reports extrication will be needed.
UPDATE 8:08 a.m.: A diesel tank has ruptured. A large amount of fuel has spilled. Emergency Services requested to the scene. Pads and booms requested.
UPDATE 11:45 a.m.: One lane on northbound Route 63 remains closed. It's going to be awhile before it reopens. This morning, authorities were waiting for NYS DOT to come out and remove the guard rail on the east shoulder. The truck can't be pulled forward because of a large cement culvert outlet directly ahead of it. The DEC wanted the remaining diesel fuel from both tanks offloaded first, too. A good deal of fuel spilled down the drainage ditch that runs along the side of the road. Firefighters seem to have stopped the drainage about 100 yards south of the accident scene. The driver apparently fell asleep. He was transported by Mercy EMS to UMMC for treatment of minor injuries.
UPDATE 12:48 p.m.: Route 63 is closed in both directions pending removal of the disabled tractor-trailer.
UPDATE 4:01 p.m.: The tractor-trailer has been removed. The road should reopen shortly.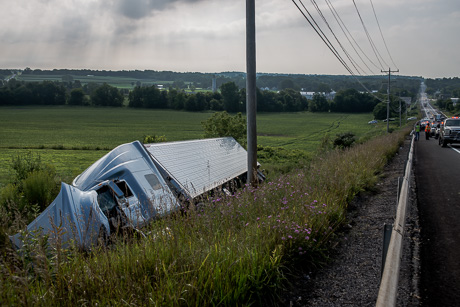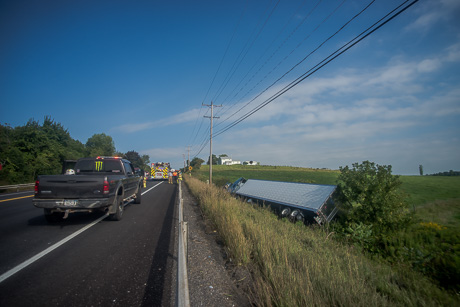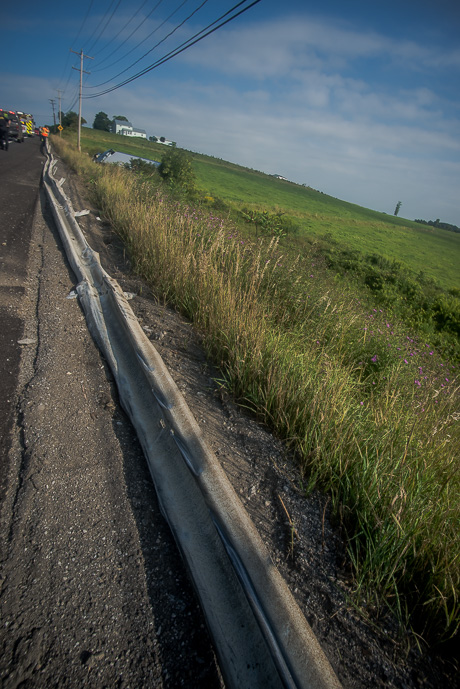 August 19, 2014 - 2:53pm
#2
Glad the driver is ok.
I live just off of route 63 and the trucks come flyin in to the city and only slow down for traffic or the light at harvester when they have to. Isn't there something we can do to discourage them from coming through the city? Try to get off Buell street some time without getting rolled over by a Canadian trucker, the blind spot looking under bridge doesn't give one much time to beat them going 40 MPH. A stop and go was at that intersection years ago, why not now?