July 1, 2014 - 11:12am
UPDATED: Two men from Genesee County reported killed in Thruway crash in Henrietta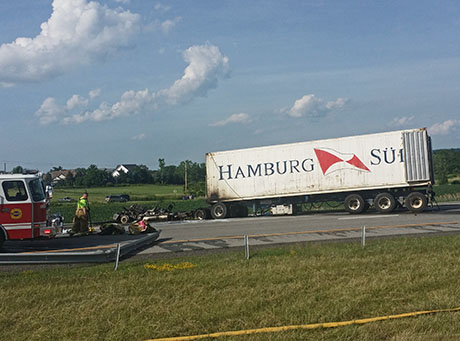 Two men from Genesee County are dead following a horrific multi-vehicle accident on the Thruway in Henrietta yesterday afternoon.
Trooper Jason Jones, PIO for Troop T, confirmed the two victims were from Genesee County, but said the State Police are not releasing the names pending notification of family members.
One victim was from Batavia, the other from Darien.
The accident was reported at 4:30 p.m. near Exit 46. Six vehicles were involved.
UPDATE July 1 (information from State Police press release): Killed in the accident were Michael F. Pehrson, 51, of Batavia, and Christopher M. Rheinheimer, 25, of Darien. They were pronounced dead at the scene after their pickup truck was struck head on by a commercial vehicle hauling a construction dumpster. That vehicle was traveling eastbound when it left its lane, crossed the center median, and traveled into westbound traffic, according to officials' preliminary investigation. State Troopers, Fire, EMS, and Thruway Authority personnel immediately responded to the scene. The operator of the commercial vehicle, Roger L. Labar, 51, of Prattsburgh, was transported to Strong Memorial Hosptial with non-life-threatening injuries. Seconds after the first collision, a westbound tractor-trailer hauling produce struck the damaged guide rail from the first collision, which punctured its fuel tank causing it to become fully engulfed in flames. The operator of the tractor-trailer, a 49-year-old man from Scarborough, Ontario, Canada, quickly exited the vehicle and was uninjured. A fourth vehicle traveling behind the tractor-trailer struck debris in the road causing it to spin and be struck head on by a fifth vehicle. The operator of the fourth vehicle, a 70-year-old man from Canandaigua, was transported to Strong Memorial Hospital with non-life-threatening injuries. The driver of the fifth vehicle was uninjured. A sixth vehicle traveling westbound on I-90 struck debris causing damage to the vehicle only, no other injuries were reported. State Police Bureau of Criminal Investigation and Collision Reconstruction Units responded to the scene and are handling the investigation. The New York State Department of Environmental Conservation and New York State Department of Agriculture & Markets also responded to the scene to assist with the fuel fire and perishable cargo of the tractor-trailer. At this time, no charges have been filed against the commercial vehicle driver, and the investigation remains ongoing. All westbound traffic was diverted off the Thruway at Exit 45 (Victor) for the duration of the investigation at the scene.
Photos submitted by Mark Hough.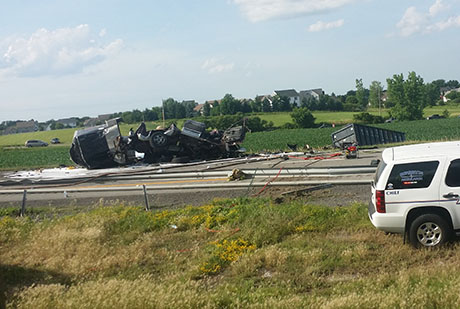 That's awful. My thoughts and prayers go out to all the victims and their families.
So sad.. So unfair. My thoughts & prayers to their families as well.
Such a sad, sad thing. Thoughts and blessings to the families.