August 30, 2012 - 8:25am
Vehicle on fire, possible serious injury following accident on Bloomingdale Road, Basom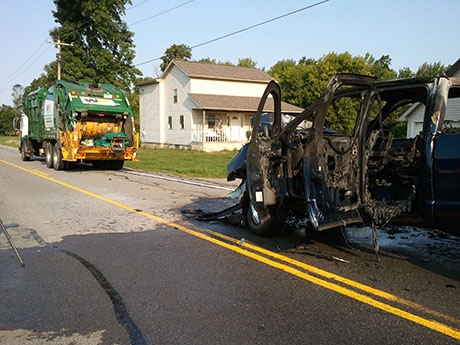 A car reportedly hit a dump truck and is on fire in the area of 1151 Bloomingdale Road, Basom.
Initially, there was reported entrapment, but now dispatchers have been told the person is out of the vehicle, but is seriously injured.
Mercy Flight is in route with an eight minute ETA.
Alabama Fire Department and Mercy EMS responding.
UPDATE 8:58 a.m.: Mercy Flight in route to ECMC.
UPDATE 9:58 a.m.: Alabama fire back in service.
UPDATE 11:29 a.m. (Photos and information provided by Alicia Kaus): The pickup truck was driven by Charles Scorse, 22, of Hamlin. Scorse was reportedly heading to the reservation to buy cigarettes after working all night in Greece and he fell asleep. His truck hit a Waste Management garbage truck that was stopped to pick up residential trash. The WM worker told Scorse to get out of his vehicle, that it was on fire. Scorse managed to get out, stumble across the road and collapse. The truck then burst into flames. He was taken by Mercy Flight to ECMC. The WM worker was uninjured.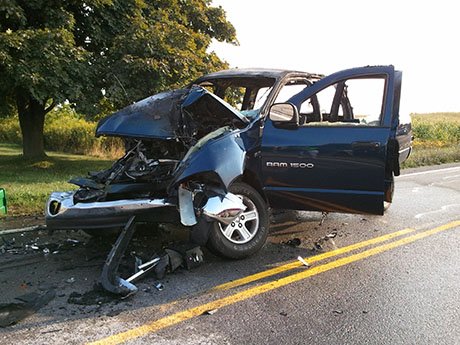 August 30, 2012 - 4:07pm
#1
I hope he's okay but I bet he wishes he could've just ordered cigarettes online.
August 30, 2012 - 4:57pm
#2
It's good to hear that there wasn't a guy on the back of the dump truck at the time... that could've been bad news!