June 28, 2012 - 7:23am
Warrant Officer Eric Olson ends 37-year career with Sheriff's Office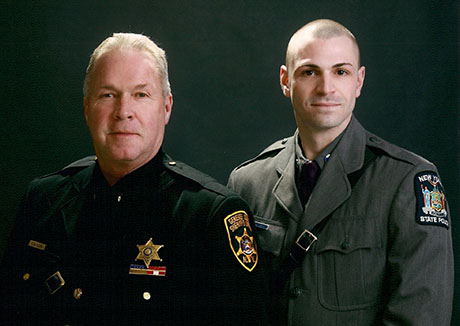 Eric Olson retires from the Sheriff's Office tomorrow. Rather than The Batavian writing an article as we might otherwise do, he asked that we publish this photo of him with his son and this letter to the community:
Out with the old and in with the new…
My career with the Genesee County Sheriff's Office began in August of 1975. I was hired as a dispatcher. Seven months later I was sworn in as a Deputy Sheriff and was assigned to the jail. In August of 1978 I was assigned to the road patrol. In August of 1984, twenty-seven years ago, I was appointed to my current position as the Warrant Officer.
The Warrant Officer position was originally created and funded through the New York State Department of Criminal Justice Service and named S.W.E.E.P. (Special Warrant Enhancement Enforcement Program) The goal of the program was to provide funds and resources to law enforcement agencies throughout New York State to aggressively pursue wanted individuals on outstanding warrants. Although the S.W.E.E.P. funding was terminated in March of 1988, the Sheriff's Office determined that the results merited local funding, and the program has been continued to this day.
Serving as the Warrant Officer for the Genesee County Sheriff's Office has been a most rewarding experience. In time, though, I began considering retirement. My son, however, had thoughts of entering law enforcement. I determined that I would not end my career until he was well into his. Ryan has been a New York State Trooper for 5 years now assigned to Painted Post (Corning). I hope that our shared conversations have been useful to him, that they have given him insights into the field that he would otherwise not have had access to. In this sense, then, my work has been for both my community as well as my son.
My retirement plans, such as they are, consist of only two goals: to remain healthy and spend more time with my family. My wife, Judy, my daughter and son-in-law Melissa and Jason Armbrewster and their son, my grandson, Evan, and my son Ryan and his new bride, Kelley, can expect to see a great deal more of me in the immediate future.
June 28, 2012 - 5:02pm
#4
To one of the best neighbors a person could have, Congratulations Eric, I am still not 100% sure it will happen, I hope so, you really do deserve it !