January 6, 2014 - 4:02pm
Weather-related incidents for Monday
This post will stick to the top of the home page today and we will keep it as updated as we possibly can with weather-related incidents. Other news stories, if any, will continue to be published as normal, so scroll down. Also, scroll down for our post listing cancellations that we know about.
UPDATE 4:20 p.m.: A vehicle skidded down a steep embankment after exiting the westbound Route 490 at the Le Roy exit at Vallance Road. The female driver is said to be in and out of consciousness, possibly due to a medical issue. Le Roy fire and ambulance service are responding.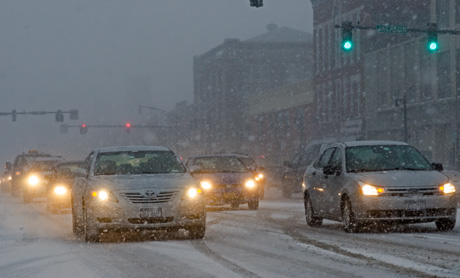 UPDATE 4:42 p.m. (by Howard): Photo of what it looked like downtown about 10 minutes ago.
UPDATE 5:38 p.m. (by Howard): A blizzard warning is effect until 6 a.m., Wednesday. Snow accumulations of 6 to 12 inches tonight, 9 to 17 inches Tuesday and 1 to 3 inches Tuesday night. Gusts up to 45 mph with visibility near zero. Wind chill below 30 degrees. Numerous roadways will be covered throughout Tuesday. Up to four inches of snowfall per hour are possible at times in the heaviest bands of lake effect snow. High winds will create drifting and blowing snow. Whiteout conditions are expected at times.
UPDATE 6:09 p.m. (by Billie): Route 98 is shut down at Lockport and Oak Orchard roads because of a motor-vehicle accident, unknown injuries, at Quaker Hill and Lockport roads. Elba fire is on scene, Mercy medics arrived non-emergency.
UPDATE 7:55 p.m.: There are three cars off the roadway in the area of Daws Corners. One is unoccupied. Civilians are on scene trying to help and a tow is in route. A trooper is on scene.
UPDATE 8 p.m.: There's a report of a car off the road on Route 77 with an unconscious driver. Darien fire dispatched.
UPDATE 8:02 p.m.: Town of Batavia is responding to a report of a truck off the Thruway. Unknown injuries.
UPDATE 8:05 p.m.: A milk truck half full of milk has overturned on Route 20 near Roanoke Road. The driver is uninjured but is unable to get out of the vehicle. Another car is reported off the road, Route 77, Darien.
UPDATE 8:13 p.m.: Route 20 being closed at Texaco Town and at Pavilion Center Road. A chief says, "it's a complete whiteout up here."
UPDATE 8:18 p.m.: A truck is off the road, partially blocking Route 20 between Smithley and Attica roads.
UPDATE 8:21 p.m.: Photo above of West Main Street, Batavia, at 7:15 p.m.. A Pembroke chief reports a lot of trucks backed up on the westbound Thruway.
UPDATE 8:27 p.m.: To keep up with the latest news on cancellations and closings, click here. We just added a closing for Wyoming County: grand jury postponed for a day.
UPDATE 8:43 p.m.: There's a wrecker coming for the milk truck. Route 20 should reopen in about five minutes. A deputy just cleared a call and asked if there were more calls. "Yeah, a lot of them. One at 20 and Harlow, 20 and 77, though a wrecker's coming for that one."
UPDATE 8:52 p.m.: The tow for the milk truck is coming from Farmington. It has another truck to pump out first. Pavilion is clearing the scene until the tow arrives and Route 20 is being reopened until the tow arrives.
UPDATE 8:56 p.m.: The tow from Farmington is now NOT coming. The Pavilion chief asks if there's a local tow. A dispatcher is checking. The truck (or its cargo) weighs 84,000 pounds.
UPDATE 8:58 p.m.: Genesee County Emergency Services has requested that all volunteer fire departments man their halls with a crew for at least one engine through the next 24 hours.
UPDATE 9:02 p.m.: A Pembroke chief advises dispatchers that truckers are lining up, parked, on the east side of Route 77 near the Flying J.
UPDATE 9:13 p.m.: A truck is off the road in the area of 471 Route 5, partially blocking.
UPDATE 9:23 p.m.: No local tow for the milk truck. When the boss gets their the driver and the boss will talk it over. They may just leave the truck for now.
UPDATE 9:28 p.m.: The on-again-off-again local tow for the milk truck may be on again in about 20 minutes.
UPDATE 9:31 p.m.: A car is in a ditch off Route 20 near Route 63. Two occupants. No injuries reported.
UPDATE 9:49 p.m.: Pavilion fire dispatched to Burley Hill for traffic control because a truck is disabled and blocking multiple lanes.
UPDATE 9:51 p.m.: A trooper trying to find the car in the ditch off Route 20 reported "it's complete whiteout conditions out here." 
UPDATE 9:52 p.m.: The driver of the car says she sees an SUV nearby in a ditch with its four-ways on. The trooper now on scene reports four cars off the road. The dispatcher reports, "she's excited to see you." The trooper replies, "and I'm excited to see them, too."
UPDATE 9:55 p.m.: The trooper reports the car isn't really in the ditch, but there's a lot of snow and no visibility, so the driver is just staying put for now. They do have a baby on board. The trooper is checking on the other cars.
UPDATE 9:59 p.m.: The trooper is giving a woman driver a ride home and picking up the two women with a child. "They're not going anywhere fast."
UPDATE 10:14 p.m.: There's much less activity now. Unless circumstances change, we're suspending updates to this post. (Time to try get some sleep and be ready for tomorrow.)
UPDATE 10:45 p.m.: There's a water main break on Ross Street. Route 63 is reopened. 
UPDATE 10:48 p.m.: They can't offload the milk. It's not leaking. The owner is considering just leaving it until the weather clears. A GCSO supervisor says that's fine if it isn't a hazard. The deputy and owner are going to discuss it some more. There are now two heavy wreckers and a service truck in route to that location from a another call.
January 6, 2014 - 8:33pm
#1
a wrecker and sheriff's car with lights on heading west towards Batavia - must be the one car I watched speeding along.