May 15, 2014 - 9:33am
Whiskey 7 makes The New York Times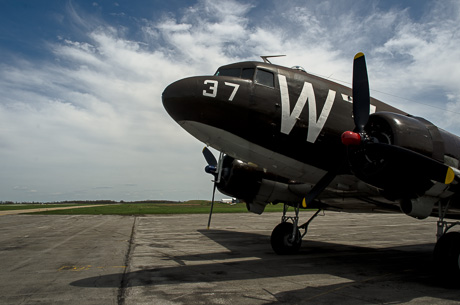 We published photos of Whiskey 7 over the weekend from its refueling stop at the Genesee County Airport and shared that the plane is leaving today for France to take part of D-Day anniversary ceremonies.
This morning, The New York Times published a lengthy story about the plane and the historic trip.
The five-person, all-volunteer aircrew is packing life rafts, survival suits and other safety gear in the event of emergency. "There will be five of us onboard," said Mike Lindsay, the crew chief, "and five parachutes."
The farthest the Whiskey 7 has flown recently is to Wisconsin for an air show. But Mr. Lindsay and his fellow airmen say they are confident, even if the men they intend to honor are a little less so.
"I think it's kind of nuts," said Richard Ladd, 89, a local Veterans of Foreign Wars member who jumped out of a similar C-47 on D-Day as part of the 101st Airborne. "They've got more guts than we have."
May 15, 2014 - 12:08pm
#1