November 13, 2012 - 6:36pm
Woman who hit Walmart employee on Christmas Eve scheduled for felony sentencing tomorrow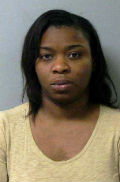 Jacquetta B. Simmons, the 27-year-old Batavia woman convicted Aug. 24 of assaulting a 70-year-old Walmart employee on Christmas Eve will find out tomorrow whether she will be going to prison for any amount of time.
Simmons is scheduled to appear in Judge Robert C. Noonan's courtroom at 9:15 a.m.
Following her conviction in a jury trial, Noonan ordered -- as standard procedure -- a pre-sentence report, which will help form his opinion on what he believes is appropriate punishment for Simmons.
The sentencing options for Noonan on the Class D felony are probation on up to eight seven years in prison.
Simmons will stand before Noonan with no prior criminal record, which will also be a factor in her sentencing.
Another factor will be the letters from community members and family members for both Simmons and the victim, Grace Suozzi, Noonan likely received prior to today.
Suozzi is expected to make a victim impact statement, which could also factor into Noonan's decision.
Court proceedings are open to the public and much of the local and regional media will likely be at the courthouse in the morning.
For previous coverage by The Batavian of this case, click here.
November 14, 2012 - 12:04pm
#4
Ray, white collar criminals that steal hundreds of thousands of dollars, if not millions, often get a slap on the wrist while someone caught with some drugs goes to prison. If you're a member of a certain club (The club that only the super rich can belong to), you're above the law.
You honestly believe that nobody is above the law? We've all read about local, state, national and international scandals where nobody has ever been charged for serious crimes. "Fast and furious" comes to mind right from the get-go. Laws really only apply to the common people and to wealthy people that piss off their wealthy friends. If you can gain favors with money, you pretty much can do no wrong.
Here's an example of how it works on a small scale: If you get arrested for DWI and you go to court and plead guilty without any representation, you're going to fry with the harshest sentence possible. If you pay a lawyer more money than you can probably save in a few years, that lawyer will say a few words in court and confer with the DA and you'll be out drunk driving again in no time.
The system isn't designed to be fair. The system is heavily influenced by who you know and how much money you have.
Edit: So if you're poor and have no connections, don't get caught selling a $20 crack rock to an undercover officer because you'll do some serious time. Cases like that were presented to the grand jury I was on and I always refused to indict.