July 13, 2014 - 8:59pm
Young baseball team off to good start in inaugural season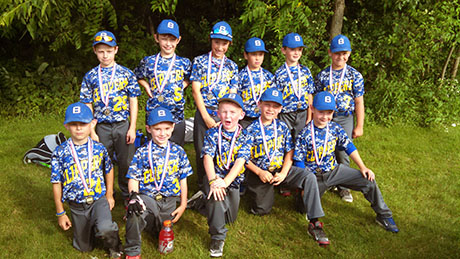 Jane Johnson shared this picture of the Batavia Clippers 8-and-under baseball team, sponsored by Graham Manufacturing, who she said are off to a good start in the team's first year.
A portion of her e-mail:
The Batavia Clippers 8U Travel Baseball team took 2nd place in their division and 3rd place overall last weekend in the Honeoye Falls Mendon Youth Baseball Midsummer tournament. The team played teams from Canandaigua, Fairport, Mendon, Pittsford and Rochester.
This weekend the team plays in the Clarence Youth Baseball Travel Team Tournament at the Clarence Meadowlakes Park. The team matches up against teams from Clarence, Amherst, Williamsville, Orchard Park, Lancaster, Akron, Buffalo, Evans, North Tonawanda, and Grand Island.
The Clippers team is led by Coach Ben Buchholz, Coach Sam Antinore, and Coach Jeff Grazioplene. The Clippers players are all members of the Batavia Minor League.
Team members are: Jay Antinore, Bronx Buchholz, Joe DiRisio, Dane Dombrowski, Cole Grazioplene, Jake Hutchins, Alex Johnson, Cal Koukides, Jameson Motyka, Carter Mullen, Sheldon Siverling, Malcom Wormley.