April 18, 2014 - 9:28am
Young girls basketball team ready to roll into Ohio for first traveling tournment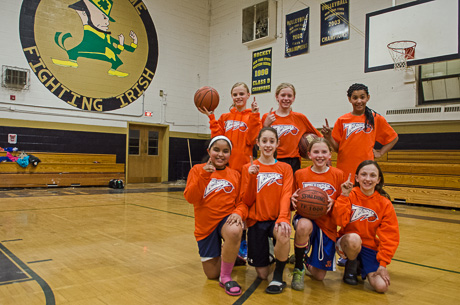 A group of fifth- and sixth-grade girls are about to embark on a new adventure -- playing in a basketball tournament in another state for the first time.
The Thunder are a new girls basketball team aimed at giving the young players off-season experience and practice.
Coach Otis Thomas said the girls are really dedicated to the sport.
"We look pretty good," he said. "They work hard. Very enthusiastic. Great bunch of girls. Very disciplined. Just to have them in the gym now when it's softball season and baseball season shows how dedicated they are."
The nucleus of the Thunder is the Batavia Middle School team.
They will play in the King James Shooting Stars Classic (sponsored by Lebron James) in Ohio next week.
Pictured, from left, first row: Nya Thomas, Morgan Rohdes, Mckenzie Riegle, Brynn Wormley, Emily Janes, Kennedy Kolb, Destiny Griffin. Not pictured are Mia Rhinehart, Bella Phillips, Hailey Thornley, Nashiya Rhimm.
The team's sponsors are Big Pauly's Pizza and NYSCOPBA.