November 20, 2012 - 4:51pm
Sponsored Post: Dan's Tire - Unbeatable Tire Sale - going on now!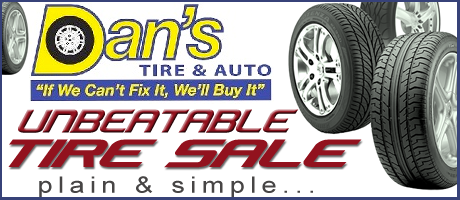 Continued throughout the month of November, Dan's Tire & Auto is making your tire buying experience plain and simple. We won't be undersold. We will BEAT anybody's price on comparable tires, plain and simple. For a limited time only, when you buy a new set of four tires you'll get the following absolutely 100% free…
• Free Tire Mounting
• Free Tire Balancing
• Free Valve Stems
• Free Tire Pressure Monitoring System Reset
• Free Alignment (Not Just An Alignment Check)
• Free Road Hazard / Flat Repairs
• Free Rotations For The Life Of The Tires
We want your tire business, plain and simple. After 35 years there's one thing we've learned, keep it plain and simple and everybody wins.
As an added bonus Goodyear is giving pre-paid Visa cards for up to $160 as a rebate on the purchase of four select Goodyear or Dunlop Tires. Don't forget that you can sign up for a Goodyear Credit Card right here at Dan's Tire & Auto. Goodyear Cards are accepted nationwide and offer 6 months with no interest.
Call us today at (585) 343-7210 for your quote or visit us online at www.danstire.com