January 15, 2013 - 2:26pm
Sponsored Post: Le Roy Youth Soccer sign-ups this Wednesday from 6 to 9 p.m.!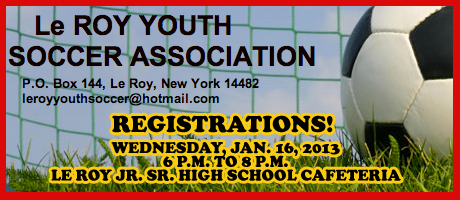 2013 SUMMER SOCCER REGISTRATION IS UNDER WAY! NEW FOR 2013: LYSA HAS IMPLEMENTED AN ONLINE REGISTRATION AND/OR PAYMENT PROCESS
REGISTER EARLY!!! 
Late fees will be assessed to registrations received after Jan. 18.
Registrations will not be accepted after Feb. 15.
You can register and/or pay online or in person. Regardless of how you plan to register, please read the registration information/parent handbook carefully and thoroughly before entering the online registration system or coming to our walk-in registration. Thank you!
A ONE DAY WALK-IN REGISTRATION WILL BE HELD:
WHEN: WEDNESDAY, JANUARY 16, 2013
TIME: 6 P.M. TO 8 P.M.
WHERE: LE ROY JR./SR. HIGH SCHOOL CAFETERIA
At walk-in registration you can manually register your child if you choose not to use the online registration/payment process. Just print out the registration form to hand in at that time or forms will be available at registration. You may also turn in any information needed to complete your online registration, i.e., picture, birth certificate, payment, sign up for volunteer duty, or to ask questions.
Registration Information / Parent Handbook
After you have read the registration information you can begin the online registration process.