July 19, 2014 - 8:00am
Sponsored Post: Saturday's Events at the Genesee County Fair!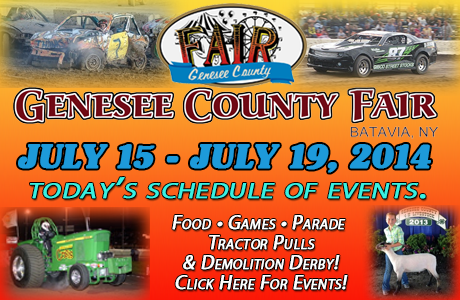 SATURDAY, JULY 19TH - GENESEE COUNTY FARM BUREAU DAY & BRING YOUR TRACTOR TO THE FAIR DAY"
All Day - Magical John | Entertainment Tent
8:30am - NIOGA Colored Breed Show
9am - NIOGA Holstein/Open Class Dairy Show | Show Ring
10am - 4-H Horse Gymkhana & Games Classes | Horse Ring
11am - FARM STOCK TRACTOR – Bring your tractor! Enhanced Tractor & Garden Pullers | Grandstand
11am - EXHIBIT HALLS & BUILDINGS OPEN
1pm - MIDWAY OPENS | Amusement Area
1-7pm - Mr. Scribbles | Exhibition Bldg.
1pm - NCCC Tanzen Dance Team | Entertainment Tent
2-4pm - 4-H Vegetable Art Fun Fair Activity | Kennedy Building
3-6pm - Rain Date for GPS & Solar Fun Fest | Merton Building
6:30 pm

Empire State Pullers Tractor Pulls. Immediately following ESP are Semi Trucks & Stock Pick Up Trucks | GRANDSTAND
8pm - Beer Tent Opens
8pm - 12am - "Savage Cabbage" band | Beer Tent
8pm - 4-H Dairy Animals released
8:30pm - 4-H Horse released
9pm - 4-H Non-market auction animals — Sheep, Beef released
10pm - Kennedy, Merton & Exhibition Buildings open for pick up of entries
11pm - MIDWAY CLOSES
12am - Beer Tent CLOSES
CONTACT INFORMATION:
Please feel free to contact us directly by email or phone. Genesee County Fair, 5056 East Main St. Road, Batavia, NY 14020. Phone: 716-474-3656 or 585-344-2424, Email:
[email protected]
VOLUNTEER OPPORTUNITIES:
The Genesee County Fair is always looking for volunteers in many areas. Please email or call for more information on volunteering your time at the fair.