January 24, 2013 - 7:36pm
Sponsored Post: St. Joseph School - Join us for our Open House!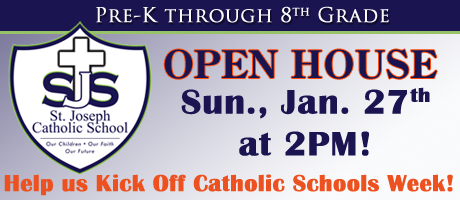 St. Joseph Catholic School kicks off Catholic Schools Week with an Open House at 2 p.m. on Sunday, Jan. 27th. Prospective families are encouraged to visit and learn more about its academic standards and Christian values. No registration is required.
The school, currently serving about 300 students in 13 districts from pre-K to eighth grade, has several events scheduled for Catholic Schools Week.
On Monday, parents will join students for Lunch and Bingo, along with Crazy Hat and Hair Day. On Tuesday, students will be allowed to dress up as their favorite storybook character, while Wednesday is Movie and Pajama Day. Students will visit the YMCA and the ice rink on Thursday. Jump Rope for Heart activities will take place on Friday, followed by a Family Dance on Friday night.
Other upcoming events at St. Joe's include the Penny Carnival, which will be held on March 16th at the school, and the Super Mammoth Sale, which is scheduled for April 6th.
Currently, 60 percent of families attending St. Joseph School receive some type of financial aid and nearly 20 percent are non-Catholic.
To find out more, call 343-6154 or visit www.sjsbatavia.org