January 18, 2013 - 2:02pm
Sponsored Post: The YNgodess Shop - #1 Seller of Scandelicious Raspberry Riesling!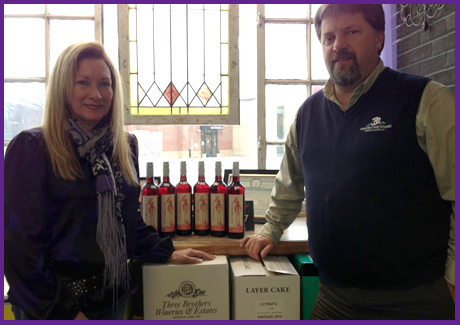 Pictured above: Christine Crocker, owner of The YNgodess Shop & Keith MacMillan, tasting room manager of Three Brothers Winery.
Christine and her staff are proud to announce The YNgodess Shop is the #1 seller of Scandelicious Raspberry Riesling, by Three Brothers Winery, in all of New York State. Keith ("Mack") is excited about the support of their wines in the Batavia area. The Yngodess Shop has 10 tasty wines from this Seneca Lake winery in stock and is exclusive to Batavia. Three Brothers Winery operates three wineries and a brewery on their beautiful property.
The YNgodess is located at 73 Main St. in the City of Batavia. Open: Monday and Tuesday -- 10 a.m. to 8 p.m., Wednesday through Saturday -- 10 a.m. to 9 p.m., Sunday -- Noon to 6 p.m. 585-343-3170. Like us on Facebook and stay up-to-date on current store events.