June 19, 2017 - 1:06pm
Local resident interns at dream farm in Germany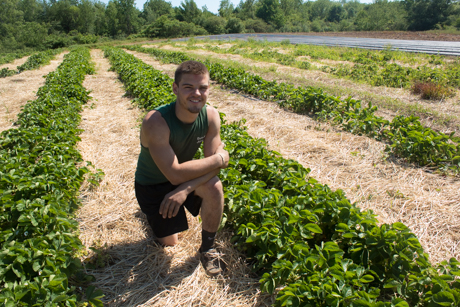 Andrew Underhill's passion for growing strawberries took him across the world to Eisenberg, Germany, to work on a strawberry and asparagus farm. 
The 15-week internship was required for his graduation from SUNY Morrisville, Underhill said.
"I love growing strawberries and it was a 35-acre farm there," Underhill said. "It was my dream farm."
Underhill said when deciding where to complete his internship, he knew wanted to be on a large strawberry or asparagus farm.
"I wanted to go somewhere farther than New York," Underhill said.
His college roommate had family in Switzerland, who ended up having a connection at the farm in Germany. 
Erdbeer Land, the farm he interned at, has 35 acres of strawberries and 15 acres of asparagus, with 385 employees.
While at Erdbeer Land, Underhill learned new cultivation methods for strawberries and asparagus, and how to extend strawberry seasons.
Underhill said he also learned how to grow white asparagus while in Germany, but doesn't plan to grow it here.
"It's harder to grow," Underhill said. "It's the same plant, but it grows under the soil."
The Elba resident works on his family farm, Underhill farms, located on 4847 Batavia Elba Townline Road. He is the fourth generation of Underhill men to farm on the same fields.
Now an alumnus of SUNY Morrisville, he said he plans to take over Underhill farms one day.
"I do all the planting [of strawberries] here," Underhill said. "I pick them, too." 
Below are photos from his time in Germany.