May 18, 2017 - 3:37pm
Open house party showcases months of work by Building Trades Program students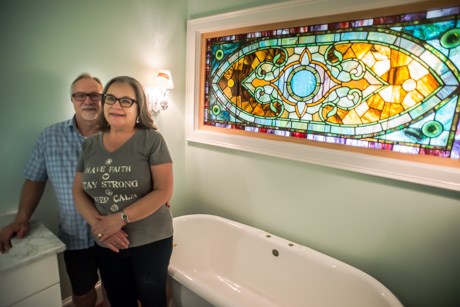 Clinton and Barbara Worthington held an open house party at their new home built by the Building Trades Program of the Genesee Valley Educational Partnership Batavia Campus on Thursday.
Around 70 students worked on the custom 2,200-square-foot home starting in September, learning technical skills in carpentry and cabinet making, residential wiring, plumbing, and heating.
Clinton said the project went very well and they are very pleased with the home.
Each year, students in the program build a house, getting hands-on experience in residential framing, door and window hanging, electrical wiring, heating systems, plumbing, siding, roofing, drywall installation, and trim on the interior and exterior. Students are also taught blueprint reading, and material codes and specifications.
Building Trades Program instructor Richard Monroe said the students are taught a set of transferable skills through the program.
"In our country, there is a huge skills gap," Monroe said. "There are not enough trades people to fill the needs."
Monroe said after students leave the program, some choose to step into postsecondary education. Others can directly go to work making around $75,000 a year.
In the spring of 2016, the Worthingtons decided to build a house at 4828 Ellicott Street Road in Batavia. They began meeting with the Building Trades Program weekly to create a calendar and develop plans for the house.
The Worthingtons designed the open floor plan for the house. Barbara said she likes to entertain, which inspired the plan.
One advantage to having the students building the house is the cost savings, Clinton said.
"We don't have to pay the students for the labor, which was a huge advantage," Clinton said. "The only disadvantage was the time frame."
Clinton said the longer time frame gave them more time to shop.
"You can't just go to the store and shop for all the stuff in one day," he said.
Clinton said there were some limits to what they could do. He said if they wanted metal roofs or tile work they would have to subcontract.
"We like living in Batavia," Clinton said. "[The students] needed a house to build and we needed a house to receive, so it worked out well."