February 16, 2017 - 7:04am
Batavian Wagner captures 2017 Genesee Region USBC Masters crown; 'Belmo' returns to winner's circle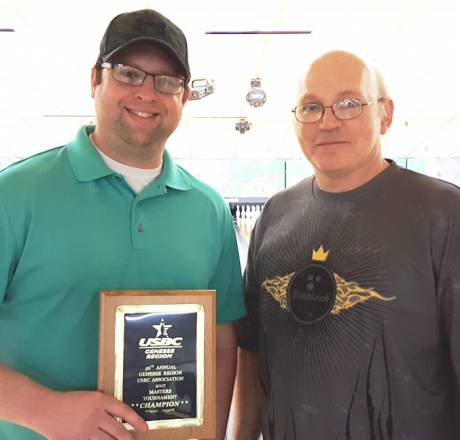 The affectionately-named "house pro" took it to the house on Sunday by posting a wire-to-wire victory in the 56th annual Genesee Region USBC Masters Tournament at Mancuso Bowling Center in Batavia.
Rich Wagner (at left in photo at top along with runner-up Jim Foss) burst onto the bowling scene as a teenager – I think he had the first of his dozens of 300 games at the age of 15 – and, over the next 19 years, has continued to be a dominant league and tournament player in the area.
The Batavia left-hander has been especially tough at Mancuso's, where he regularly averages around the 230 mark in the Thursday night league (he bowls just once a week) and usually cashes in tournaments there.
Last weekend, he quickly took control of the eight-bowler Peterson Point finals of the Masters by defeating No. 1 qualifier Scott Shields of Batavia, 226-219, in the opening match to move into the top spot.  From there, he stayed in front the rest of the way to capture the $475 first prize along with a special Masters champion ring and plaque.
"It feels great. This is the one I wanted," Wagner said. "I'm kind of speechless right now."
Wagner averaged 215 for his eight games on Sunday and 216 overall during the scratch singles tournament, which started on Saturday with qualifying (four games) and semifinal (top 16, four games) rounds.
Seventy-two bowlers entered the event, which was contested on the challenging Kegel Beaten Path oil pattern – a 41-foot condition that created an "out-of-bounds" outside of the second arrow.
"I played a completely different shot than I normally do here – the second arrow. Usually I play up the gutter. I just had to keep focused and tried to stay clean," Wagner said, who added he received "sound advice" from his father, Rich, who cheered him on during the finals.
Ironically, in an age where new bowling balls are being released to the public on what seem a weekly basis, Wagner uses a Storm X-Factor Ace (circa 2004) and a Jet Altitude (2011).
"The Ace is almost old enough to have a learner's permit," he joked.
It was the first Masters title for Wagner, a corrections officer who found success in late November – winning two of three matches -- as a contestant on the Buffalo-based TV show, "Beat The Champ."
After beating Shields in the first game on Sunday, Wagner built a 177-point lead after a sixth-game, a 217-180 win over eventual runner-up Jim Foss of Medina. He coasted home despite losing his last two matches.
Wagner posted a 5-3 match game record in the finals, and amassed 327 Peterson Points -- 90 more than Foss. Bowlers are awarded Peterson Points based on match victories (30 points for a win, 15 for a tie) and score in relation to 200.
Foss earned $325 for placing second, and Shields won $225 for his third-place finish.  Foss reached the finals at Livingston Lanes in Geneseo in 2013 but was unable to bowl as he was in a car accident on the way to the tournament. Shields was the runner-up in 2014 at Medina Lanes.
Defending champion Scott Culp of Lima was fourth, good for $175, and was followed by Rick Lee of Mount Morris ($150), Nate Wright of Batavia ($135), Joe Trigilio of Attica ($120) and Brian Weber of Perry ($110).
The top 16 bowlers out of the 72 who entered cashed. Other cashers were Jason Quilliam of Batavia ($90), Curtis Foss of Medina ($90), Brady Weber of Perry ($85), Bob Santini of Mount Morris ($85), Mike Pettinella of Batavia ($80), Scott Allis of Medina ($80), Rob Stefani of Batavia ($75) and Jeff Wolinski of Perry ($75).
To view final standings, qualifying and semifinal scores, go to www.bowlgr.com.
LEE, PASSARELL POST 300 GAMES IN MOUNT MORRIS, ALBION
A not-so-funny thing happened to Rick Lee on his way to a possible 800 series in the Wednesday Night Labatts Classic League on Feb. 1 at Mount Morris Lanes.
The 46-year-old right-hander had already posted games of 300 and 265 on lanes 3-4, putting himself in position for his second USBC-certified 800.
Unfortunately, in the eighth frame of the last game, he stuck at the foul line and fell onto the lane – over the foul line – which cost him his pinfall. After gathering himself, he left the 10-pin on the spare ball for an open frame.
He came back with four straight strikes, but the damage was done. The 223 third game resulted in a 788 total.
Obviously, Lee, a sales engineer for Frontier Communications, was disappointed.
"You get that close, and to come up shy by sticking and going over the foul line …," he said. "And the thing is that I always drag my left foot to start my approach to make sure it slides. I'm real cautious about sticking."
Still, Lee – using a Storm IQ Tour -- registered his fourth perfect game and raised his average to 229.
He said he changed his game a couple years ago, opting to throw a straighter line with more speed, and has raised his average from the low 200s.
Longtime league and tournament bowler Jim Passarell of Albion finally entered the 300 circle as he posted a perfect game on Feb. 6 while substituting in the Sneezy's Monday Night League at Oak Orchard Bowl.
"I came close many times and had a couple of non-sanctioned 300s, but on Monday night things fell into place," said Passarell, a 62-year-old right-hander who bowls regularly in the Thursday Firefighters League at Medina Lanes.
The fleet parts manager for Kistner Concrete in East Pembroke said he played an inside line on lanes 5-6 while one of his two Storm Marvel Pearl bowling balls – a "pin up" version "that I knew would turn the corner."
His magic touch eluded him a bit after the opening 300 as he finished with a 645 series.
In any event, he now has his perfect game to go along with the 810 series he rolled in February 1990 in league play at Oak Orchard Bowl.
CROSSROADS HOUSE FUNDRAISER THIS WEEKEND IN BATAVIA
It's not too late to sign up your team for the 21st annual Betty Ellison "Strike Out for Crossroads House" fundraiser this weekend at Mancuso Bowling Center.
Although the Friday night and Saturday 6 p.m. squads are full, openings remain for the Saturday 3 p.m. and Sunday 1 p.m. squads.
The entry fee is $100 per team and all proceeds – there is no prize money – will go to benefit Crossroads House, a comfort home for the dying.
This year's tournament is dedicated to the late Joe Gerace, a lifelong Batavian who organized many teams over the years.  Gerace passed away on Nov. 17 at the age of 80.
To enter, contact Tara Lowder at 585-409-0136.
Medina Lanes will be hosting the Webster-Bane Memorial no-tap singles tournament at 2 p.m. Feb. 26.  The entry fee is $20.  Call Medina Lanes at 318-4474 for details.
For information on other tournaments this month, scroll down to the Feb. 2 Pin Points column.
NEARLY $1,900 RAISED THROUGH CURT HAIGHT EVENT
Thirty-six teams and onlookers combined to raise $1,890 for Genesee Cancer Assistance at the Curt Haight Memorial four-person no-tap tournament on Jan. 21 at Mancuso's.
The Rochester team of Steve Meyer, John Martorella Sr., Norm Bialuski and Kara Mangiola placed first, winning $900, and the team of Mark Brown of Attica, Kai Clark of Rochester, Traci Spanitz of Rochester and Rob Sease of Brockport was second, winning $500.
The top six teams cashed.
GENESEE REGION YOUTH IN ACTION THIS WEEKEND
Mount Morris Lanes is hosting the 11th annual Genesee Region USBC Youth Doubles Tournament this weekend – squads are at noon and 2:30 p.m. on Saturday and 10 a.m. and during the GR Youth Travel League at 1 p.m. on Sunday.
GRUSBC youth members will be teaming up for handicap doubles competition in three divisions, based on their combined averages. Scholarships will be awarded to the first-place teams in each division and trophies will go to the top three spots in each division.
The entry fee is $32 per team.  Contact Tom Fluker, GRUSBC president, at 585-284-2637, to enter.
In recent Travel League action, Scopano's I maintained its five-point lead over Batavia Strike Force with a split against third-place Batavia X-Factor at Mancuso's on Feb. 5.
Individually, Matt Baker and Skylar Laesser rolled 606 and 601 series, respectively, to lead the boys while Emma Miller had 584 to lead the girls.
BELMONTE IS BACK; TACKETT WINS PBA PLAYER OF THE YEAR
Jason Belmonte's two-year drought is over.
The three-time Professional Bowlers Association Player of the Year won his seventh major title by defeating Anthony Simonsen of Austin, Texas, 221-204, in a battle of two-handers in the finals of the Barbasol PBA Players Championship Sunday at Wayne Webb's Columbus (Ohio) Bowl.
The Australian pocketed $40,000 for the victory, which is his 13th PBA Tour title overall. Prior to Sunday, his last win was his record third straight USBC Masters in February 2015.
The PBA is back with another live show at 1 p.m. this Sunday on ESPN – the finals of the Tournament of Champions. On Feb. 26, there will be back-to-back live telecasts of the USBC Masters finals and World Bowling Tour Men's and Women's Finals, beginning at 1 p.m.
In other PBA news, 24-year-old E.J. Tackett of Huntington, Ind., was the overwhelming choice as the 2016 GEICO Chris Schenkel Player of the Year, and Francois Lavoie of Quebec City, Canada, was selected as the PBA Rookie of the Year.
Tackett's year featured four titles, including a victory in the PBA World Championship, and he led the earnings list with $154,900.  Lavoie captured the U.S. Open, a major. En route to his victory, he rolled the first nationally-televised perfect game in the tournament's 74-year history.
(Mike Pettinella's Pin Points column appears every other Thursday on The Batavian, the region's No. 1 source for online news. To advertise on this page, contact Mike at [email protected] or at 585-343-3736).