October 17, 2012 - 6:17pm
Four Genesee County teams ready for first round of Section V playoffs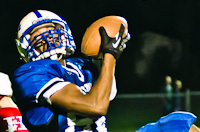 #7 Batavia Blue Devils (3-4) vs. #2 East Rochester/Gananda Bombers (6-1)
7 p.m., Friday
Batavia enters their Class B first round matchup against East Rochester/Gananda riding a three-game losing streak, and has lost three out of the last four.
Despite the recent lack of success and a few injuries this week, first year Head Coach Brennan Briggs is still optimistic about his team's chances of pulling off the upset.
"We are due to play 48 minutes of football because we haven't in the last three weeks," Briggs said. "If we execute and know our assignments, we can win this football game."
To key to the Blue Devils' success will be the playmaking ability of wide receiver Justin Washington. The senior is capable of making big plans in the return game, running and catching the ball.
"We have been working on a few different ways to get him the ball, whether it's running or passing," Briggs said. "We think [Washington] is the best athlete on the field on any given night."
If Washington can break loose, and the Blue Devils overcome their injuries, they have a chance to beat the Bombers on Friday night.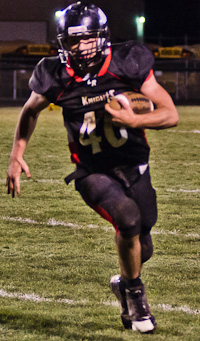 #7 Holley Hawks (4-3) vs. #2 Le Roy Oatkan Knights (6-1)
7 p.m., Friday
Second-seeded Le Roy will host the seventh seed Holley in the first round of the Section V Class C Football Playoffs on Friday night in a matchup of Livingston County and Genesee Region League teams.
Le Roy is coming off an emotional come-from-behind win against rival Cal-Mum last week, as they scored 10 points in the final four minutes of the game to squeak out a victory.
The Knights' only loss on the season came against Perry in Week 6, but leading rusher Peter Privitera did not play in the game, nor did he last week due to injury. Privitera has rushed for 834 yards and 10 touchdowns in five games this season, while Marcus Mistersaro has 362 yards, 3 touchdowns and 9.8 yards per carry.
Mistersaro stepped in for the injured Privitera last week and ran for 90 yards, including 63 on the game-winning drive against Cal-Mum.
Le Roy averages 282 rushing yards per game, so Holley will have to slow down the running attack in order to have an opportunity to win.
While the Hawks enter the game with more wins than losses, they have a 1-3 record against teams with a winning record for the season.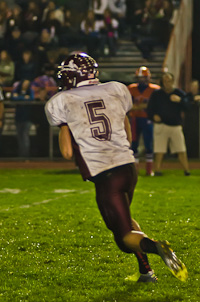 #6 Bath Rams (4-3) vs. #2 Elba/Byron-Bergen Lancers (6-1)
1:30 p.m., Saturday
Elba/Byron-Bergen will host Bath in a Class C first round matchup on Saturday afternoon and the player to watch is undoubtedly Lancers running back Zack DuBois.
The senior led the Genesee Region League in rushing with 1,572 yards and 16 touchdowns. DuBois also ran for 200 yards in 5 of 7 games he played this year, and never rushed for less than 113. His average of 224.6 yards per game and 10.3 yards per carry were also tops in the league.
If Elba can get DuBois rolling early, it will open up the passing game for quarterback Zac Gillard, who has 881 yards, 12 touchdowns and only 3 interceptions on the season.
Defensively, they are led by four-time Section V Class C Defensive Player of the Week Andy Underhill.
The junior linebacker led the Lancers with 132 tackles, averaging almost 19 per game. While Bath comes in with a 1-3 record against teams with winning records, they did defeat a strong Livonia squad, so the Rams will be a tough first round matchup for Elba/Byron-Bergen.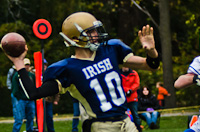 #4 Dundee Scotsmen (3-4) vs. #1 Notre Dame Fighting Irish (6-1)
1:30 p.m., Saturday
While Notre Dame is coming off an emotional high last week after defeating Attica to force a three-way tie for the Genesee Region League Championship, the 76 to 14 drubbing that Dundee gave the Irish in the 2009 Class D Championship game is still fresh in the mind of Head Coach Rick Mancuso.
Notre Dame will look to avenge that loss and the attack will begin with do-it-all quarterback Tim McCulley. The junior led the G-R League in passing yards and his 16 touchdown passes were also tops in the league.
McCulley is also extremely effective running the ball if the pocket breaks down, as he did last week 11 times for 79 yards. The McCulley-to-Jared Thornton connection has been hot as of late, with the two hooking up 10 times for 240 yards and 3 touchdowns in the victory against Attica.
If Dundee wants to upset the number-one seed in Class D, they will have to do so by shutting down Irish passing attack.
Notre Dame fell in the Class D Finals a year ago, and has not won a championship since 2006.
October 19, 2012 - 8:56am
#2
That is a pretty bold quote from head coach Briggs at Batavia. How about a kudos to the rest of the team that blocks for and passes to "the best athlete on the field on any given night"? I always thought football was a team sport.