October 31, 2012 - 6:36pm
Le Roy, Notre Dame look to continue sectional run
posted by
Nick Sabato
in
sports
.
Notre Dame Fighting Irish (8-1) vs. Avon Braves (8-1)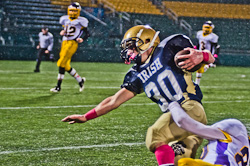 Notre Dame captured their first sectional championship since 2006 after dominating Clyde-Savannah last week, 26 to 6. The Fighting Irish shut down the Golden Eagles' offense that came in averaging nearly 46 points per game on the season. They managed to sack star quarterback Tom Molisani seven times and intercept him four times.
The game was billed as a showdown between two standout quarterbacks, but Notre Dame's Tim McCulley only attempted three passes. McCulley became a defensive stalwart, picking off two Molisani passes. Head Coach Rick Mancuso controlled the game, using the running game to control the tempo. Nick Taylor ran for 189 yards and two touchdowns, while Andrew Mullen picked up 88 and a score.
On the opposite side, Avon used a similar game plan to defeat the undefeated Red Jacket Indians to win the Class DD title. The Braves held the ball for over 28 minutes, and three different players carried the ball 14 or more times. Jake Martinez carried 19 times for 87 yards and a touchdown, while quarterback T.J. Crye carried 18 times for 65 yards and a score.
Avon has three players who have gained over 500 yards rushing this season. Dan Welch (655), Crye (580) and Martinez (504) have led the Braves offensively, while Welch and Martinez have 133 and 99 tackles on the season, respectively.
The winner of this game will advance to the Far West Regional against the winner of the Section VI Class D Championship game, which will either be Randolph (7-2) or Maple Grove (9-0).
Kickoff is set for noon on Saturday, Nov. 3, at Sahlen's Stadium in Rochester.
#2 Le Roy Oatkan Knights (8-1) vs. #1 Hornell Red Raiders (9-0)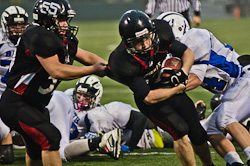 Le Roy is aiming for their 15th sectional championship in program history, and the 14th under Head Coach Brian Moran.
The only problem is that the three-time defending state champion Hornell Red Raiders are standing in their way. Hornell is riding in on a 48-game winning streak after shutting out Attica in the second round of the Class C playoffs last week, 35 to 0.
The Knights will be their stiffest test yet, especially if quarterback Mike McMullen can duplicate last week's performance. The sophomore went 7-of-10 for 151 yards and a touchdown in the victory over Bath. He will be an integral part of the offense, because the Red Raiders were stout against the run last week, and he can add balance to the offense.
Le Roy will most likely look to control the tempo of the game with their stable of backs. Leading rusher Peter Privitera's status is up in the air for the third-straight game after tweaking his knee in the third quarter last week. If he cannot play, Moran will rely on a quartet of backs in Tom Kelso, Marcus Mistersaro, Dylan Johnson and Kylan Carter.
Defensively, the Knights will need to stop Hornell's double-pronged rushing attack of Zack Bacon and Luke Morgan. Bacon ran for 260 yards on 21 attempts and scored twice, while Morgan ran for 111 yards and a touchdown last week against Attica. If Le Roy can stop the run, they should be raising another sectional banner.
The Class C Championship was originally scheduled for 5 p.m. on Friday, but due to Hurricane Sandy, Hornell was forced to close school on Tuesday. The game has been rescheduled for noon Sunday, Nov. 4. The site will remain Sahlen's Stadium.