January 12, 2014 - 9:45am
Notre Dame comes out on top in tough, physical game with Batavia in Rotary Tournament
posted by
Nick Sabato
in
sports
.
If you saw last year's Rotary Club Tournament final between Batavia and Notre Dame, you would expect a similar tough, hard-fought matchup between two of the top teams in the area.
After winning a close game last year, Notre Dame edged Batavia to repeat as Rotary Tournament Champions, 44-39.
The Blue Devils were unsure if they would have the services of leading scorer Tiara Filbert after she sat out the last contest with an injury, but she was active and made an impact on the game.
The sophomore put in a game-high 13 points and grabbed 10 rebounds in a losing effort, but it was another Batavia sophomore the Lady Irish keyed in on.
After averaging nine points per game on the season, Madison McCulley, the Blue Devils' top outside shooter was shutout on the night by Tournament MVP Laurie Call.
Batavia Head Coach Marty Hein attempted to do whatever he could to free up McCulley, who is also the point guard, by allowing other players to handle the ball.
"They put Call on her, and she is a ball-hawk," Hein said. "We have three girls who can handle the ball, so we just let Essence [Williams] and Tiara [Filbert] bring the ball up."
Call finished with nine points and seven steals on the night, including four points in the fourth quarter, including a three-pointer to put the Irish ahead 37-32.
"I had tears in my eyes, I was so happy for her," said Dave Pero, head coach for Notre Dame. "Every team needs a Laurie Call, and every team would be happy to have her."
Mel Taylor, who was knocked out of the game briefly in the first quarter when she hit the floor hard causing a cut on her chin, made a lay-up to give the Lady Irish a 33-32 lead that they would never relinquish.
Call would score the next four points in the contest to extend the Notre Dame lead, cementing her MVP performance.
"They aren't the defending state champions for nothing," Hein said. "It would have been nice to beat Notre Dame, not just for the community but because they are a good team. They have great girls and there isn't a bad one among them."
Essence Williams scored 11 points and grabbed six rebounds, while Sam Cecere pitched in nine points and 13 rebounds as both were named to the all-tournament team for Batavia (7-2).
Taylor scored a team-high 12 points and grabbed five rebounds, while Shea Norton scored eight points and pulled down 16 rebounds as they also earned all-tournament team honors.
Notre Dame improves to 9-0 on the season.
Top photo: Laurie Call takes it on the chin as she collides with Essence Williams while going in for a lay-up.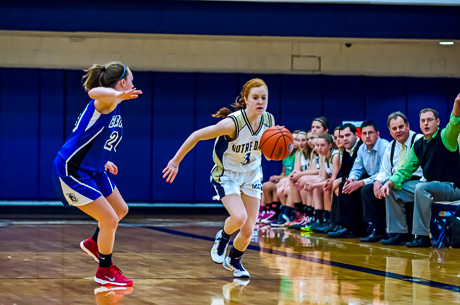 Laurie Call brings the ball down court, defended by Liz Myers.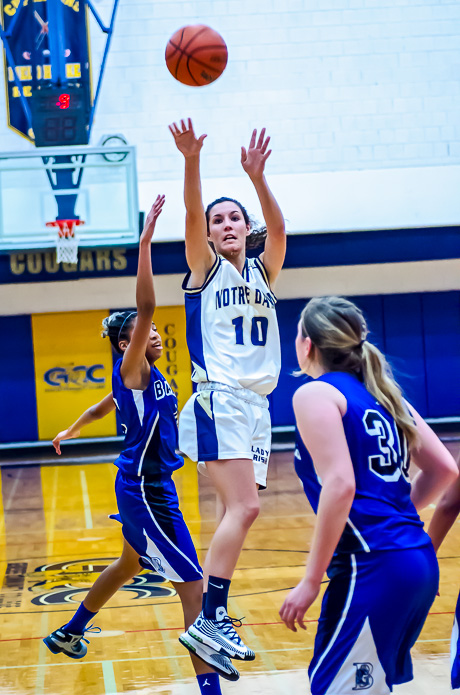 Mel Taylor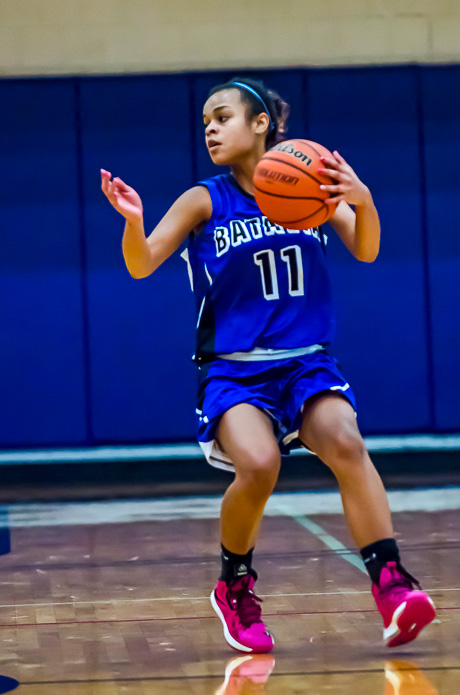 Essence Williams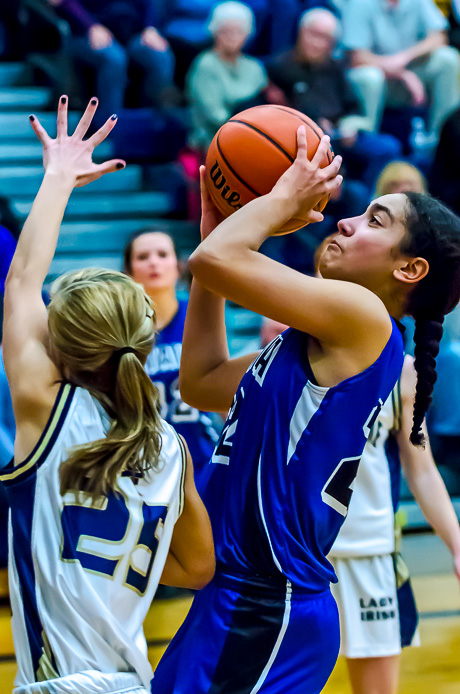 Tiara Filbert and Emma Francis battle as Filbert goes in for a shot.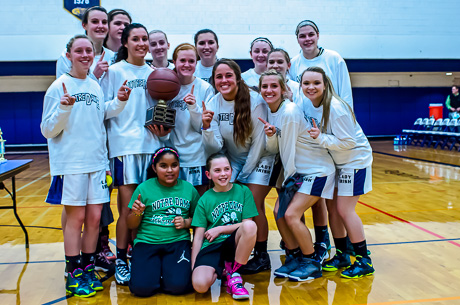 The Notre Dame team with their tournament trophy.
To purchase prints of photos, click here.