February 4, 2014 - 11:58pm
Notre Dame dominates Elba to complete season series sweep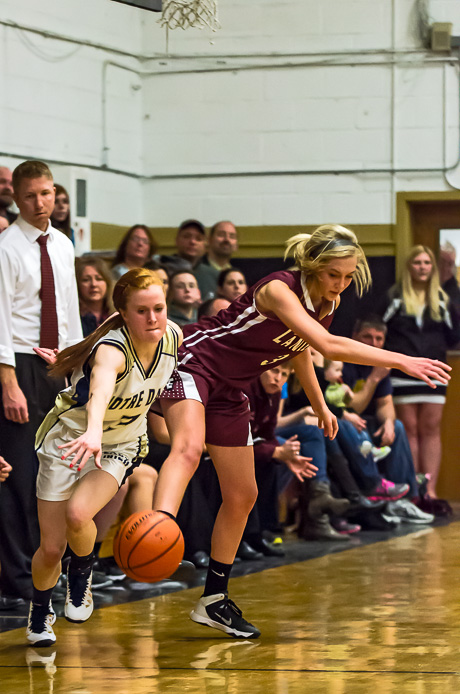 The Notre Dame girls are just one win away from clinching their 11th Genesee Region League title in school history after pounding Elba, 69-37.
The resounding victory also marks the first time that the Lady Irish have swept Elba in league play since the 2010-2011 season.
The Lady Lancers kept things close in the first quarter, but Notre Dame blew the game open in the second, led by Mel Taylor.
Taylor scored 12 of her game-high 24 points in the second quarter as the Irish increased their  seven-point lead after the first quarter to 23 at half time.
"It's getting down near crunch time," said Notre Dame Head Coach Dave Pero. "We're trying to stress that you have to be more aggressive on whatever you do [well]. Mel is a scorer and we want her to try and score as much as possible."
In the third quarter, junior Emma Francis picked up where Taylor left off, scoring 10 of her 15 points in the frame to put the contest out of reach.
"Emma's got potential," Pero said. "She's starting to believe in herself and it's a great time to believe. If we have Emma Francis at full-go come sectional time, we'll be a tough team to beat."
Taylor was not as terrific scoring the ball, but she had a splendid game overall, adding 11 rebounds, six steals and four assists.
Shea Norton also played strong underneath, scoring 13 points and 10 rebounds. Senior Laurie Call chipped in with seven steals, six assists and five rebounds for Notre Dame (15-1).
Kelsey Bezon had another solid game in defeat, scoring 14 points and grabbing four rebounds. Haley Brown chipped in with 10 points for Elba (12-4).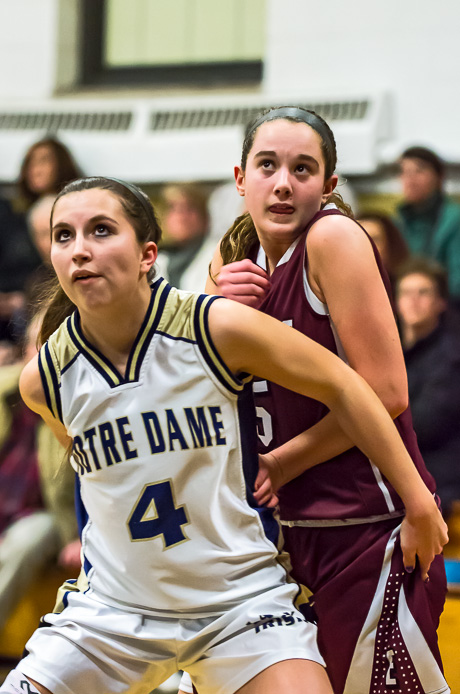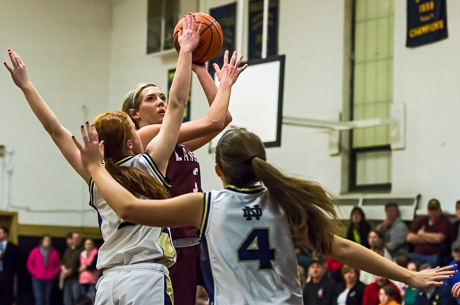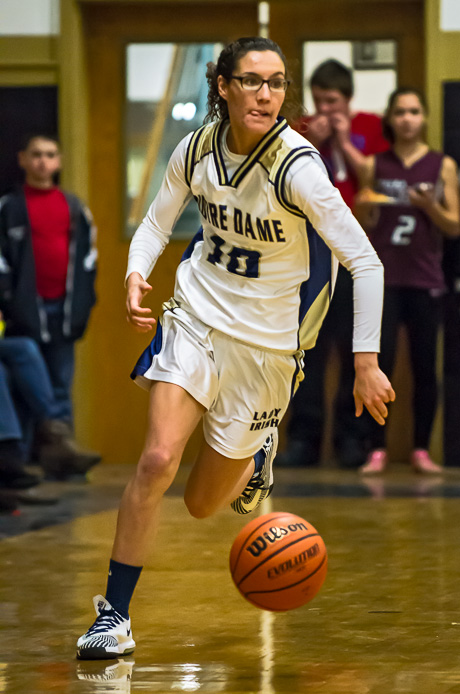 Photos by Howard Owens
To purchase prints, click here.