December 28, 2012 - 8:43am
Notre Dame, Elba are victorious in Lions Club Holiday Shootout
posted by
Nick Sabato
in
sports
.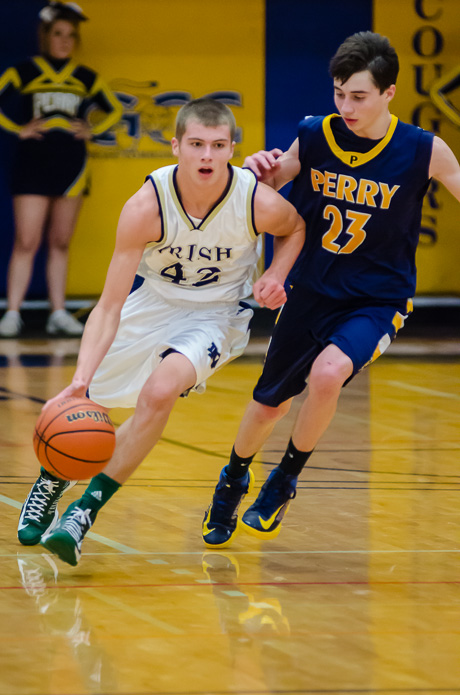 Notre Dame handed Perry its first loss of the season in the Lions Club Holiday Shootout at Genesee Community College, 46-29.
While neither team seemed to find their shooting touch throughout the game, Notre Dame was able to throttle the Yellowjackets' offensive attack, limiting them to 25 percent from the floor for the game, including 1-for-17 from 3-point range.
Despite playing without the school's all-time leading scorer, Anthony Ricotta (who was out due to a sprained ankle), Perry kept the game within reach at halftime, trailing only 23-16. The Fighting Irish, who average nine three-pointers per game, were limited to three in the first half and only five for the game. Tommy Prospero and Jared Thornton combined to go 3-for-12 from long range after combining for 34 triples entering the contest.
"We really weren't patient early in the game," said Notre Dame Head Coach Mike Rapone. "They came out in a little bit of a different defense and we just didn't exhibit the kind of patience to be successful against a defense like that."
The Perry defense focused in on Notre Dame's three-headed monster of Prospero, Thornton and Tim McCulley, holding them to a combined 23 points, but that meant their role players would get open looks and they made the most of them. Senior Ryan Bender posted his first career double-double with 10 points and 11 rebounds while senior Vin Misiti tied Bender for a team-high 10 points.
"They did what they have to do when a team plays a defense like that," said Rapone. "If they leave you open, you have to stick the open shot."
The Irish clamped down their defense in the second half, limiting Perry to only five made field goals in the second half, and holding them without a three-point field goal. Notre Dame came up with 10 steals in the game, including three consecutive possessions that ended in McCulley or Prospero deflections and steals in the third quarter.
McCulley finished the game with 10 points, six rebounds, four assists and three steals, while Prospero had a solid all-around game with five points, six rebounds, six assists and three steals for Notre Dame (6-0).
Tyler Elliott led the way for Perry (7-1) with 10 points and 15 rebounds.
In the first game of the night, Elba defeated Mount Morris, 63-47.
Senior Kyle Morse led the way for the Lancers with 22 points, 13 rebounds and four steals en route to victory.
Elba stifled the Mount Morris offense all night, holding them to 28-percent shooting for the night, including 3-for-30 from beyond the arc. The Lancers, meanwhile, dominated the glass, edging the Blue Devils, 36-28.
Junior Brandon Naylor scored 12 of his 18 points in the second half, while adding six rebounds and two blocks. Jesse Pflaumer chipped in with 11 points and five assists for Elba (4-4).
Mike Olverd scored a team-high 21 points for Mount Morris, while Dev Milford chipped in eight points, eight assists, eight steals and six rebounds in the loss.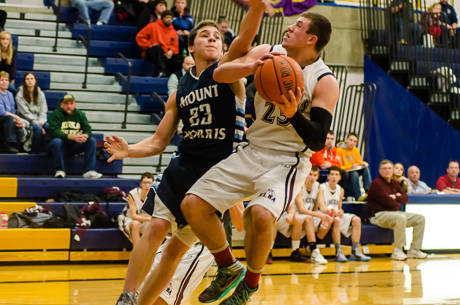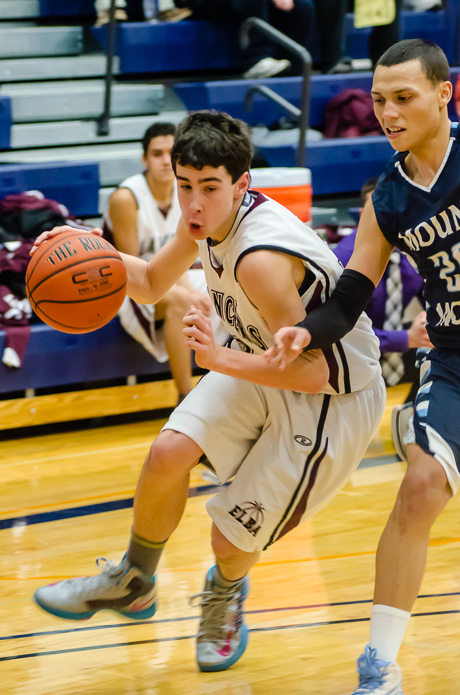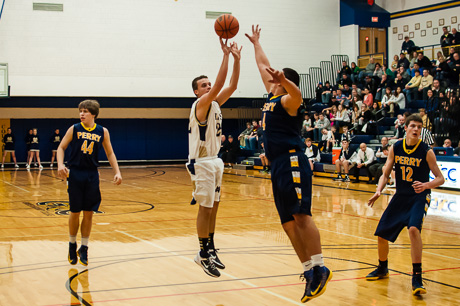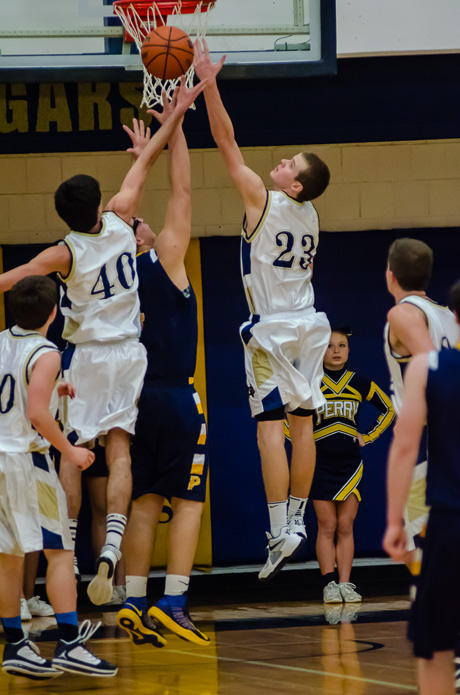 Photos by Howard Owens
To purchase prints of these photos, click the links in the slide shows.
December 28, 2012 - 11:56pm
#1
why wasn't the Batavia Blue Devils there..They have played in it every year..