November 3, 2012 - 8:20pm
Notre Dame's great 2012 run hits a brick wall against Avon
posted by
Nick Sabato
in
sports
.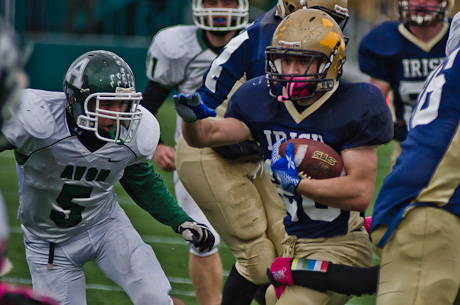 Notre Dame's football season came to an abrupt end.
The Avon Braves downed the Fighting Irish on Saturday afternoon, 43 to 7. The loss eliminates Notre Dame from sectional playoffs, just one game shy of the Far West Regional.
Notre Dame got off to a fast start on their first possession of the game, taking the ball 82 yards on 13 plays, capped off by a Tim McCulley 1-yard touchdown run to take an early, 7-0 lead. Shortly thereafter, things began to go south for Head Coach Rick Mancuso and company.
"We lost the turnover battle," Mancuso said. "We made a lot of mistakes that we haven't in the past few weeks."
Avon got on the board on their next possession after a 30-yard touchdown pass from T.J. Crye to Jake Martinez. The Braves then forced Notre Dame to put on the ensuing possession, and McCulley's punt hit one of his blockers in the back. Avon marched 39 yards and Martinez punched in the go-ahead score from a yard out.
When the Fighting Irish got the ball, the Braves pounced on an Andrew Mullen fumble, giving them the ball at the ND 34-yard line. Crye hit Brandon McCaffery four plays later and converted on the 2-point conversion to take a 22-7 lead.
McCulley and his offense did not give up just yet, as they drove all the way to the Avon 1-yard line. However, the Braves defense stood strong, denying Notre Dame of any points and taking over on downs.
Crye, the Section V Class DD Offensive Player of the Year, would then take over on his own 3-yard line, and proceed to drive 97 yards in 2:35 before punching in a back-breaking touchdown run with 39 seconds remaining in the half to make the score 28 to 7 at intermission.
Notre Dame would never get any closer coming out of the half as their state championship dreams were dashed. Avon keyed in on McCulley, holding him to 6-of-17 passing for 57 yards.
"I hand it to Avon," Mancuso said. "They are a great group of kids and (Head Coach) Andy Englert does a great job with them. They took full advantage of our mistakes and it just wasn't our day."
Taylor ended his high school career on a personal high-note, rushing for 80 yards on 13 carries after receiving the Section V Class D Defensive Player of the Year at halftime and he was voted his team's Player of the Game by Section V.
Mullen chipped in with 71 yards.
Crye earned Player of the Game honors for Avon after finishing 7-of-16 for 137 yards and two touchdowns while adding another 136 yards and two scores on the ground. The Braves will play Section VI Champion Randolph next Friday for the right to represent Western New York in the State Tournament.
Despite losing, the Fighting Irish (8-2) had an outstanding season. They held a share of the Genesee Region League Championship and won their first sectional title since 2006.
McCulley was 6-17 for 67 yards. Jerad Thornton had two receptions for 15 yards and Taylor caught the ball twice for 16 yards. Anthony Paladino has six tackles and Charlie Hebert, five.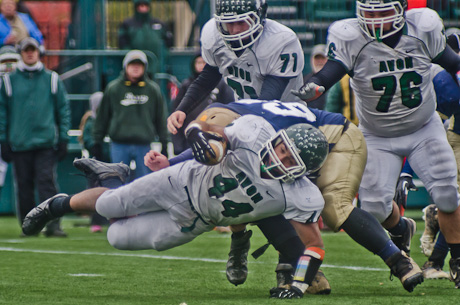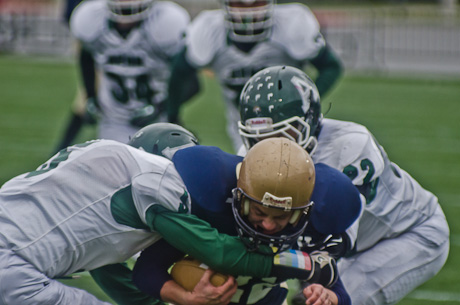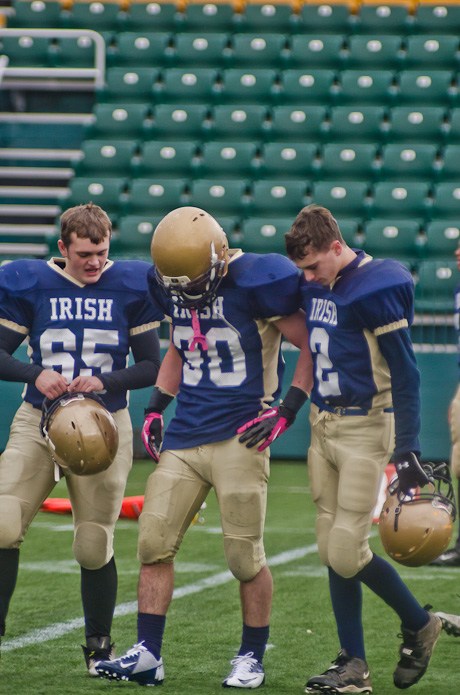 To purchase prints of these photos, click here. If you're unable to view the slide show below, click here.