May 2, 2014 - 9:02am
Local photographer launches exhibit to underscore plight of refugees at The Gallery at Blue Pearl Yoga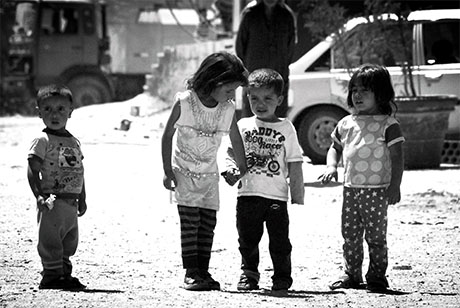 The work of Pamela Dayton, a local artist who chronicled daily life through a series of photographs in a Syrian refugee camp, can be seen at The Gallery at Blue Pearl Yoga beginning today. The exhibit will be on display through June during normal gallery hours. The public is invited to a free opening reception on May 9.
Dayton traveled to Lebanon in 2013 with a short-term mission group from the Wesleyan Church of Hamburg. She became involved with a compassionate ministry to Syrian refugees while spending three weeks in a tented settlement in the Bekaa Valley, Beirut. Embedded with a team of doctors and nurses, she chronicled a "day-in-the-life" of a refugee in an attempt "to validate their existence and document their experiences for the wider world," she explains. "My photographs illuminate the life of war refugees: the tragedy, sorrow, and tedium of living within a refugee settlement, as well as the beauty and strength of the Syrian people."
Using a Sony a300 camera, Dayton took nearly 16,000 photographs -- or about 2,000 per day. Choosing which images make the cut has been "difficult" but Dayton hopes that people who visit the gallery will be able to identify with her subjects.
"There is one photograph of a mama holding a toddler that wanted no part of sitting on her lap. People are so similar, whether you're in a makeshift tent in a Third-World nation or having coffee in my living room," she says.
Pamela, who lives in Batavia with her husband Jon and their four children, plans to return to Lebanon this summer with the mission group. Then she will begin studying at Kilns College in Bend, Ore., to obtain a graduate degree in Social Justice and Theology in September.
"My heart is broken for refugees and families stuck in the cycle of poverty. There is an enormous refugee community in Buffalo, and poverty is a big problem in Genesee County and the Western New York area," she says, "so I feel confident that I can make an impact here."
An opening reception is planned for 6 to 8 p.m. on Friday, May 9, on the third floor of Blue Pearl Yoga, 200 E. Main St., Batavia. Gallery hours are Monday, Thursday, and Saturday from 9 a.m. to 11 a.m.; Monday through Thursday from 5 p.m. to 7 p.m. For more information, call Blue Pearl Yoga at 585.230.5430 or contact Ms. Dayton at [email protected].
"People are so similar, whether you're in a makeshift tent in a third-world nation or having coffee in my living room," So true.
2,000 photos a day? wow. This sounds like a very interesting exhibit.