February 19, 2014 - 2:30pm
Bergen Business and Civic Organization honored by Chamber of Commerce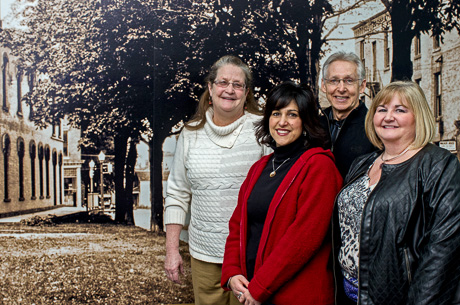 The Bergen Business and Civic Organization was created in 1896 as the Businessman's Club and was reorganized in 1969 to include not only women, but all civic-minded citizens. The club currently has 48 business members and 15 civic members from Bergen and the surrounding communities and they are dedicated to the betterment of not only Bergen, but Genesee County as a whole.
In 2014 they will celebrate the 45th anniversary of the reorganization of the group and the 25th anniversary of the Bergen Park Festival. This family-oriented alcohol-free, community event includes a parade, car cruise, food, craft vendors, a book sale, a bounce house, zoo animals, pony rides, games, contests, live music and culminates with fireworks. All proceeds from the event go back to the village and town parks.
The Genesee County Chamber of Commerce is honoring the Bergen Business and Civic Association with the Special Service Recognition of the Year Award.
Anne Sapienza is the current president of BBCA and she has been a member for 30 years.
"I, along with the membership, am very honored to be recognized by the Genesee County Chamber of Commerce," Sapienza said. "Volunteers do so because there is a feeling of self-satisfaction in a job well done. The team effort necessary to have an organization continually put forth positive community programs is huge and although not essential, a pat on the back is always welcome. I believe this award has brought some awareness to our organization and hopefully it will entice area residents and businesses to join."
Sapienza became involved because it was an organization devoted to the whole community.
"We support school events, veterans, hospice care and more. We have sponsored the annual Easter Egg Hunt at Hickory Park in the Village of Bergen for over 35 years," Sapienza said.
The BBCA publishes the Bergen Directory every two years, which allows businesses to advertise locally and promote their services. They also offer tours of businesses so that citizens can learn about their operations and how they affect the community.
The group hosts a recognition dinner every year, which honors five or six individuals, businesses and organizations that have contributed to the community in a positive way.
The BBCA organized the 200th Birthday Celebration of the Town of Bergen with a dedicated garden and time capsule, along with special events at the Park Festival of 2013.
The club donates to the the Byron-Bergen Public Library, Masons' Christmas gift baskets, Genesee County Fair, Genesee County Veterans Services and Byron-Bergen Central Schools.
As is the case with volunteer organizations, although there are many members, only a core group of longtime members regularly attend meetings and assist with programs.
"Although the Town and Village of Bergen have been very supportive and assist with different projects, we always encourage new members and younger members to join as well," Sapienza said.
Meetings are held the third Monday of the month at 13 S. Lake Ave. in Bergen at noon and everyone is welcome to attend.
Photo by Howard Owens. Clockwise: President Anne Sapienza (white sweater), Secretary Charlie Cook, Treasurer Maria Rowland, and Vice-President Michele Smith.
February 19, 2014 - 8:05pm
#1
Thank you for a wonderful article and pic!