February 20, 2014 - 2:30pm
Bonduelle named Agricultural Business of the Year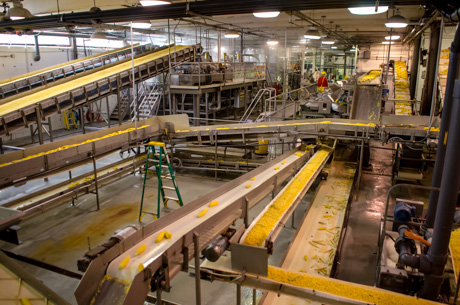 Its expertise in agri-business, along with its high quality standards, has made the the family-run company, Bonduelle, a household name in Europe for canned, frozen and fresh vegetables. It has 47 plants around the world and sells in 100 countries.
Headquartered in France, Bonduelle is a worldwide market leader in prepared vegetables. The recent addition to Western New York has been named the Genesee County Chamber of Commerce Agricultural Business of the Year.
"We are proud to be recognized by the community," Byron Facility Manager Jim Newcomb said. "Our company is pleased with the local grower base, the skill of the employees and the opportunity to market in the U.S."
Bonduelle purchased two Genesee County plants in 2012 from the former Allen food processing facilities in Bergen and Oakfield, along with a plant in Brockport. They retained all of the existing full-time staff and employ nearly 800 people in the United States, 400 of whom are full-time workers.
The Bergen plant deals with peas, green beans, sweet corn and carrots, while Oakfield processes green, lima and wax beans, along with butternut squash.
Both locations will produce more than half of the 257 million pounds of frozen, ready-to-eat, vegetables that Bonduelle's American operations are projected to sell in 2014. The Brockport packaging facility will handle 130 million pounds of processed vegetables.
Bonduelle posts more than $2.5 billion in annual revenues and has invested $1.7 million into the three New York facilities in its first year, upgrading equipment, improving training, as well as ensuring that only the best produce is purchased from family farms within the area.
They work with a network of local growers and the Bergen and Oakfield plants harvest most of their vegetables from within a 30-mile zone. Growing crops in close proximity to freezing facilities allows them to preserve maximum freshness. Since vegetables only travel a short distance from field to plant, they're frozen just a few hours after harvest, capturing freshness at their peak of maturity.
Bonduelle's operations are supplied by local growers who are part of more than 130,000 acres contracted by the company, and its team of experts ensure thorough control over every step in the food processing chain, from seeding to packaging.
People are the driving force of Bonduelle. Therefore, it's important to provide them with opportunities to upgrade and hone their skills. Whether it's in farming, production, quality assurance, sales or another sector, the company credits its team members as the company's driving force.
They include longtime Bergen facility employee Newcomb, who started there in 1971 when it was CB Foods, pushing pea carts, and who has worked his way up as the company has changed hands several times. As previously noted, he's now a Bonduelle facility manager.
"I'm excited to be working here, which is hard to believe since I've been here since 1971. Bonduelle has invested capital dollars into the facility, bringing money into the community and we are definitely on an upswing," Newcomb said.
The company has been in the frozen, ready-to-eat vegetables business since 1970. Products are marketed under private-brand labels for U.S. food distributors and supermarket chains, such as Wegmans store-brand frozen vegetables. Its sales team operates on the major retail trade and food services networks.
Bonduelle's plants, equipped with modern technology, enable flexibility and greater production capacity. The company is poised to grow and increase volume. Their Northeast operations are a prime focus and that means expansion for Genesee County plants.
"We are currently at about 80-percent capacity, which is up from the 65- to 70-percent the plant ran in the past, but we plan to increase capacity even more, as well as introduce new crops," Newcomb said.
File Photos. Photos by Howard Owens.