July 9, 2013 - 11:48am
Local funeral home director proud of being in business for five years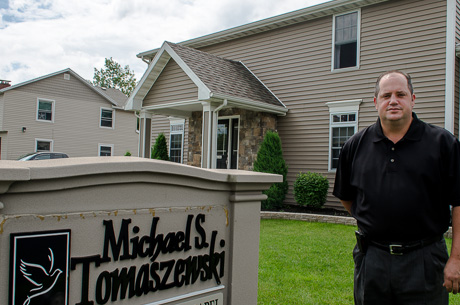 From the time he was in high school Michael S. Tomaszewski dreamed of being a funeral director.
"I liked dealing with different people, different families and different emotions," says Michael. "Although I did not come from a background of funeral homes, I always knew that was what I wanted to do."
Five years ago, Tomaszewski and his wife, Valerie, turned dream to reality when he purchased property on West Main Street, designing a a home-like facility with soft tones, vaulted ceilings, comfortable furniture and a kindling fireplace.
That's not all that gives Michael S. Tomaszewski Funeral & Cremation Chapel a degree of distinction: The Dibble Family Center opened adjacent to the funeral home in 2009. It is the first and only Family Center in Genesee County, Tomaszewski said.
It's a multipurpose facility with a cozy atmosphere, right down to the pictures of Michael and Valerie's families on the walls. It is a dedicated place to spend time with family and friends.
The staff relieves families of the burden of planning a gathering after funeral services, as well as offering a private setting to relax between visitation hours, where refreshments are always available.
"Our goal is to ensure that your family and friends are extended the same hospitality we all share in our own homes," Valerie said.
"The Family Center grew from being a complement to the funeral home, to a separate facility open to the community," Michael said. "Guests enjoy special events in a homey, family-type of environment."
Included when you rent the space is food cooked on the premises by Michael's family, a bar with bartender, as well as set up and clean up. An outdoor reception area is available during the summer months.
Also unique to the concept of the traditional funeral home is the Children's Room, which is a comfortable, safe space just for children.
Being parents of two children themselves, Michael and Valerie understand that it's important to include them in the funeral process. The Children's Room offers handpainted murals painted by Valerie, along with toys, games and a TV (with age-appropriate videos).
Signature services provided are: airline reservations and hotel accommodations, airport transportation, local restaurant reservations, florist, monument service, dry cleaning service and consultation with an attorney or financial planner.
Michael said he is passionate about the business and committed to providing the best experience for all his guests. That can include putting together picture slide shows to view at services, or maybe bringing in personal belongings -- even motorcycles -- for services, and hanging the grieving family's portrait above the fireplace. Military magnets can be placed on the hearse to honor the deceased military service, and they can create a "widow's chair," which is a tall chair that allows the widow to sit down and still be able to look eye-to-eye with guests.
"We take great pride in what we do. Our promise is to give every funeral the respect it deserves and make the service truly memorable down to the smallest detail, that is The Tomaszewski Difference," Michael said.
We used Tomaszewski's last July when my father passed away. They were very professional, comforting and accomodating to my family. I would recommend highly.
We just used Tomaszewski funeral home this past month when my father passed away. Losing a parent(who was only 68) suddenly
is not only a traumatic shock to the family, but guests who call on the loved one. I would like to say that professionalism comes first
in businees, but in this case, the family atmosphere, great ambiance, and kind hearted peple were first, and the professionalism came
along with it! "FAMILY" is the true reality of that job, and Mike scores an A+++++++ with me! From the first phone call to notify him
of my fathers death, to the last meeting to retrieve photos and CD's, Mike is top notch in my book!! I would highly recommend this location
to anyone needing funeral arrangements, or wishing to utilize the Dibble Family Center! Nice job Mike in your first 5 years, and I know there
are many more to come!!!
Believe me he is a top notch person and great funeral director. He has a house on his property that can accommodate families coming into town to get together during the day. They can get food there and accommodate family and kids, especially people from out of town. I would be honored to be laid to rest in his place knowing everyone that attended my funeral is well treated.